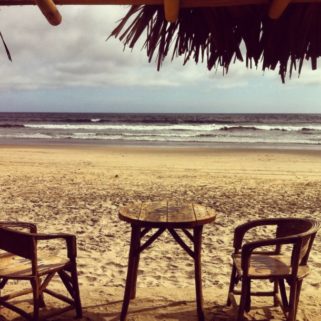 Montanita is super easy to get to from Guayaquil (Ecuador's largest city). On weekends busses run every hour and at set times during the week. The best thing to do is just to show up to the bus station and buy your ticket on site. You really can't go wrong.
I arrived in Montanita on a hot Saturday afternoon as the heat from the day made waves on the road just outside tikki hut style bus station. This was going to be home for the next two weeks.
As I walked down the main road hippies, travelers, and tourists were everywhere and the laid back vibe was felt instantly. I b-lined it for the beach because I couldn't wait to get to my accommodations and start my surfing adventure here.
Located on the north point of Montanita's beach I found Balsa Surf Camp only a five minute walk from the city centre. As I waked into the green oasis I knew I had found paradise. Strewn with hammocks in a jungle like courtyard, with cobbled walkways that lead to wonderfully designed tropical rooms, you really feel like you're somewhere special.
The first person I met here was Julie who was super friendly and showed me to my room before taking me to the custom designed balsa surf boards (which are made on location) where Balsa Surf Camp gets its name.
The location of this place is amazing because it's away from the crowds who visit Montanita on the weekends and stay in the city centre. It's also quiet because it's away from the noisy parties that rock Montanita every night of the week.
The beach in front of Balsa Surf Camp is fantastic because you have instant access to both the beach break and the north point which is where I've been spending all of my time while surfing here in Montanita.
Everyone who works here is amazing!  Balsa Surf Camp is really top notch with a gourmet menu, a movie room, tones of places to chill out of the sun on a hot afternoon, incredible balsa surfboard rentals and it's comfortable and safe.
For now it's time to hit the waves but stay tuned to find out more about surfing and partying in Montanita, the best place on the Ecuadorian coast!
Happy Travels,
Yak
Balsa Surf Camp
Phone: +593 42060075
Mobile: +593 989714685
E-mail: balsasurfcamp@gmail.com
https://borderlesstravels.com/wp-content/uploads/2014/05/beach-break-Montanita-Ecuador.jpg
610
610
Ian Yacobucci
http://borderlesstravels.com/wp-content/uploads/2017/10/small-1-300x75.png
Ian Yacobucci
2014-05-07 23:39:07
2018-07-26 09:43:58
Ecuador Surf Diary: Paradise at Balsa Surf Camp Montanita