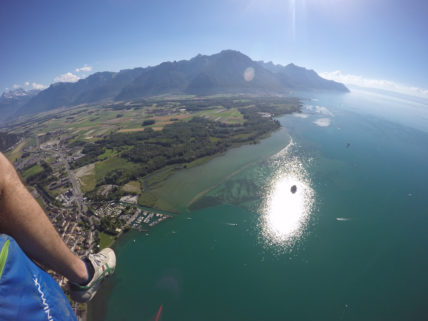 Discover Switzerland's alpine mountains from the sky as Borderless Travels Paraglides at 4500ft across Lake Geneva
Running off a hillside from 1,430 m (4691 ft) might seem crazy but paragliding is one of the safest ways to truly defy human limitations with ease and experience the Swiss Alps in an unforgettable way. On a recent trip to Montreux my we went paragliding to and experience Switzerland from the sky.  After a short drive from Montreux's train station to Soncheaux, we donned our gear and glided off. It was a surprisingly relaxing experience and nothing like what I would have imagined dangling more than 4000 ft above the ground suspended by a few wires and a kite.
Once high above Montreux we cruised on a tandem flight above Lake Geneva in Swizerland, and experienced one of the best ways to see Switzerland and the Swiss Alps. If you've been here before you might be able to see Castle Chillon (Swizerlands most visited tourist attraction) and of course the France and Switzerland at the end of Lake Geneva.
Happy Travels!
https://borderlesstravels.com/wp-content/uploads/2018/06/Paragliding-in-Swizerland-Borderless-Travels.jpg
750
1000
Ian Yacobucci
http://borderlesstravels.com/wp-content/uploads/2017/10/small-1-300x75.png
Ian Yacobucci
2018-06-25 11:59:15
2018-06-25 11:59:33
Video| Paragliding in Switzerland over the Swiss Alps