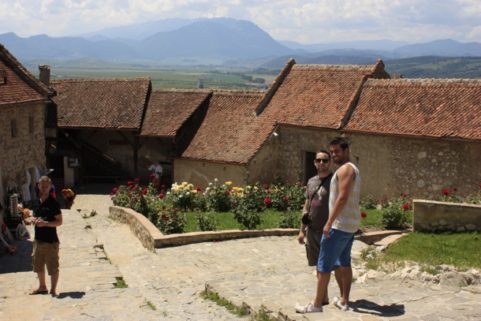 Nothing compares to a road trip when it comes to exploring a country like Romania.  There's something special about traveling the open road.  Whether you plan your trip in advance or cruise wherever the wind takes you, road trips offer the freedom to explore and discover a country your way.
For about 30 Euros ($40 USD) per day you can easily split the cost of a rental car to jet around Romania.  To give you some context, it only takes a few hours to get to Brasov (one of Romania's premier tourist cities) from Bucharest, the nations capital.
Even more convenient is that several of Romania's premier tourists sites are all less than 30 min away from each other, a huge difference when compared to car travel in Canada.
So, while planning a trip to Romania with the company of a few good friends, embarking on a road trip is exactly what we did.  And as we drove around the country here's what we discovered:
Rasnov fortress
You won't be able to miss this place sitting on top of a mountain watching over the town of Rasnov, Romania. If you're there I suggest walking to the fortress, but lazy as I am I opted for taking the tractor costing 4 LEU ($1 USD). Behind the walls of the fortress you'll get an idea of how sfe these ancient strongholds were, and while you're there don't forget to snap a few pics of surrounding countryside.
Pele's castle
Awesome! If you're in Brasov you won't want to miss this place located near Sinaia in the Carpathian Mountains. Peles castle has one of the most magnificent interiors I have ever seen. Buying a 5 LEU ($1.50 USD) student ticket will get you a tour of the first floor, and if you have a little to spend you can see more.
Pele's castle is literally a living work of art, the interior, where you have to pay to take pictures, is so opulent one is left wondering how someone even came up with the design.
Don't miss this place definitely my tourist highlight of Romania.
Prejmier Fortified Church
Fortified churches are unique historical buildings in Romania. If you're visiting, it's certainly worth checking out at least one, and Prejmier is the perfect place because its really easy to get to by car from Brasov.
Impenetrable since its inception, touring this museum and church you'll get to see what life was like behind the fortified churches walls. Checking out the church, school, kitchen and touring around the interior walls that were used to protect the city are definitely worth the time to get there.
Stop wondering the best way to see Romania, hop in a car, and take off. Don't forget to buy lots of snacks, wear your seatbelt, and enjoy the countryside. Oh yeah, and if you want some real excitement you can play how long can the gaslight stay on.
Have fun,
Yak
https://borderlesstravels.com/wp-content/uploads/2014/05/Friends-inside-Rasnov-Fortress-Rasnov-Romania.jpg
407
610
Ian Yacobucci
http://borderlesstravels.com/wp-content/uploads/2017/10/small-1-300x75.png
Ian Yacobucci
2013-03-13 08:10:06
2018-07-26 11:23:09
Essential stops for an incredible Romanian road trip