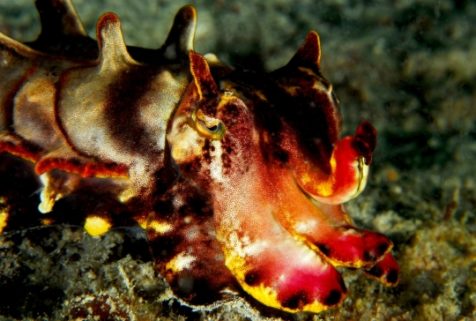 I go muck diving for the first time and learn that muck diving is a lot more fun than it sounds.
"What is muck diving?" I asked my friend Jenn when she told me about Dauin, one of the Philippines' premier dive locations for muck diving. Dauin is a beach located on the southern coast of Negros, Oriental about a 30 minute drive from Dumaguete.
Jenn described it as searching for small aquatic life on a sandy ocean bottom. Not sounding very appealing, I didn't bother researching it further than her explanation. I chose to dive in the Philippines because I wanted to see rays and sharks, coral reefs and hundreds of reef fish swimming all around me. I wasn't interested in searching for tiny aquatic life in a bed of sand.
As soon as I arrived in Dumaguete, I figured it was time for a dive. After checking my dive log I realized I hadn't gone scuba diving since 2009. So Harold, of Harold's Mansion, a dive shop and hostel in Dumaguete, decided to send me to Dauin for my first dive in three years. The dive was one-on-one and set-up as a refresher course for me to get comfortable scuba diving again. My guide was Bismark, a dive master from one of the neighbouring islands who worked as a freelance dive master with Harold's.
Bismark picked me up at the hostel early in the afternoon, and we headed out to Dauin, stopping on our way through Dumaguete's busy streets to pick up our equipment. After watching the tricycles and scooters fight for the road like wild animals on the nature channel, I couldn't wait to get to the beach. As we drove, the heavily polluted city air filled my lungs with car exhaust and garbage smoke; all I wanted was to get to the beach. Finally after about 30 min, we arrived.
At first glance Dauin appears to be a typical beach in the Philippines, but it's underwater where the real treasures are hidden. Not to be overlooked, the beach itself is beautiful, with an ocean view overlooking Apo and Cebu Islands in the distance. To be honest, once there you won't want to dive. You'll want to plop down, work on that tan and read a book; but Bismark and I, we had diving to do.
Near the dive hut, Bismark called me over to get set up and we slowly went over our equipment, making sure everything was connected and secured properly. When we were both ready with fins in hand, we walked to the shoreline, and prepared for our first dive. Bismark informed me that we would be starting off in the muck. Excited to get underwater, I forgot about what Jenn said and deflated my BCD (buoyancy compensator device).
This was my first introduction to muck diving. It was relaxing following Bismark as he slowly scanned the ocean floor for tiny aquatic life. He took time to observe an amazing assortment of ocean life, pointing out ornate pipes, ghost pipes and sea grass pipes – things you only get to see on BBC specials.
We spotted brown leaf fish, clown fish that massaged itself in anemone coral, giant groupers, and turtles. I had never seen so much miniature life, and as we continued our dive, the beauty of the ocean overwhelmed me. The coral gardens were massive and seemed to go on forever. It was so colourful, so vibrant, and all around us swam hundreds of reef fish reflecting the sun's rays as they exploded into every colour imaginable.
Near the end of my first dive at Dauin, I became a true lover of muck diving. It happened as Bismark and I were doing our safety stop to let the nitrogen leave our blood stream. Hovering at 3 meters, Bismark pointed out a small brown rock. When we got close he started pulsating his fist like a car blinker causing the rock to suddenly explode like fireworks flashing into dozens of neon colours. When I finally looked over to Bismark, he gave a big fist-pump, ecstatic about our find.
The flamboyant cuttle fish we saw is not something you see on every dive. It was one of the most beautiful ocean creatures I have ever seen, and after that moment I was hooked. I understood what muck diving was all about, and I couldn't wait to head back into the water to discover what other ocean creatures Bismak and I could find.
Muck diving in the Philippines offers scuba divers the chance to slow down and look for unassuming aquatic life. It allows you to appreciate the little things. You have to slow down, relax and enjoy the feeling of cruising along the ocean floor. My first adventure scuba diving in the Philippines was just the beginning. Observing all the smaller reef creatures felt like a warm-up. I knew there were bigger things ahead because I still had to get introduced to the whale shark.
https://borderlesstravels.com/wp-content/uploads/2012/02/12.jpg
364
540
Ian Yacobucci
http://borderlesstravels.com/wp-content/uploads/2017/10/small-1-300x75.png
Ian Yacobucci
2012-02-20 03:13:17
2018-07-26 11:50:09
Scuba Diving| Muck diving in Dauin Philippines