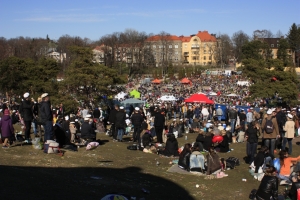 On the first of May, everyone in Finland fills the streets and parks of the country to celebrate graduation and the coming of spring.  Lucky for me, I arrived just in time to join the celebration.
Each year on the first day of May, thousands of people dressed in sailor caps fill Finland's streets and parks to celebrate graduation and the coming of spring. It's also common to see students dressed in university jumpsuits or costumed in outrageous outfits while enjoying a few beverages.
It's important to prepare for vappu so don't forget to stop by the super market before heading out. I stocked up with a few national brews, baguette and cheese from the local S-Market before hitting the party. It was mid-afternoon when I arrived at Koff Park and the party was just getting started.
For people celebrating Vappu it's legal to drink alcohol in the parks of the city as long as you're pick-nicking. Sitting around drinking glasses filled with sparkling wine, beer and spirits the young of Helsinki began the biggest party of the year. This festival lasts about two days starting early afternoon on the last day of April and finishing with massive pick-nicking events throughout the country on the first of May, a national holiday.
Always looking to practice their English, it's easy to find people to hang out with and share a drink. I was invited to spend some time with a group where one of the people had brought some sandwiches and desserts from work. The late evening snack was delicious as I stuffed myself with ham sandwiches, tiramisu, cheese cake, and blueberry cake.
Once the sun sets most people head to the bar to continue the party and sample some traditional Vappu beverages. With our couch surfing host Harri my friends and I enjoyed some local brews, and of course some Salmiakki, a black licorice flavoured drink that's very popular in Finland.
May 1st is the main celebration day, although some students use the last week of April as an excuse to party. My friends and I lucked out as our hosts prepared a pick-nick to enjoy at the portside Kaivopuisto Park with 30, 000 others. On this day, the streets were filled with what seemed to be the entire city of Helsinki, everyone dressed in their graduation caps and enjoying the sunny spring day.
It was a unique holiday to witness everyone celebrating and proud of their education, as it was not only students wearing their caps but older couples as well, their white caps faded and stained yellow with years of Vappu celebrating under their belts. There are not many countries where so many people would go out to celebrate an achievement such as this, and to be there for me was a great way to start my Finland adventure.
It was insightful to witness a culture proud of their educational roots, as thousands filled streets and parks of the country. I had a great time meeting new people, learning about Finland, and enjoying the biggest pick-nick in the world. So until next year, Hyvaa vappua!
https://borderlesstravels.com/wp-content/uploads/2014/05/a42a2aa6c7440291c38ba9adc5892a56_M.jpg
200
300
Ian Yacobucci
http://borderlesstravels.com/wp-content/uploads/2017/10/small-1-300x75.png
Ian Yacobucci
2012-05-18 07:24:10
2018-07-26 11:39:59
Celebrating Vappu, Finland's biggest party of the year