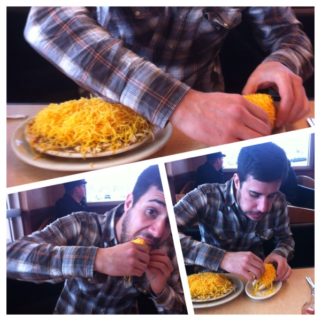 Spring break sitting at home just wasn't going to work for me this year so I called my fellow travel blogger, Cincinnati resident, and good friend, The Shameless Traveler to see what was going in Cincinnati, Ohio. Turns out one of the best things about Cincinnati is the food!
With the best tour guide in Cincinnati I hit up a few mouth watering restaurants, and metropolitan passions, that visitors to this city shouldn't miss out on, and locals who've never been should hit up on their next Tinder date!
3 Best Restaurants in Cincinnati!
Skyline Chili
Skyline Chili is not just a restaurant; it's a local passion! 2-way, 3-way, 4-way, 5-way is how you get your chili on spaghetti at Cincinnati's most popular chili franchise, so get your mind out of the gutter. Whenever I met new people in Cincinnati the first thing they asked was whether or not I'd been to Skyline.
Well now I have, and yes it is unreal! Although it's most sought after when the bars have closed and you're craving the cheesy delicious mayhem that is everything on the Skyline menu, I found myself crushing a couple coney's several times during my visit.
Local tip:  If you go there make sure you buy York Peppermint Patties for the group (it's tradition) and the best way to cleanse that pallet after a three way with a coney on the side.
Skyline website: http://www.skylinechili.com/
The Eagle OTR (over the Rhine)
Simply put, The Eagle boasts the best fried chicken in Cincinnati because it is. Coupled with an huge craft beer selection and a creative menu with the perfect number of choices The Eagle offers great food at a great price.
I ordered the ¼ chicken, which was massive and ridiculously tasty. I don't know what's in the spicy honey sauce but it's pure magic. Truth, I devoured my meal like Robert Baratheon at a wedding feast.
The healthy choices are great too. I loved the Kale Salad which balanced out the fried chicken perfectly, and for two quarter-chickens and two salads it only ended up costing about $20.
The Eagle on Facebook: https://www.facebook.com/TheEagleOTR
Graeter's Ice Cream
Being in America I figured why worry about healthy eating and so, after my fried chicken feast, I headed over the Cincinnati's most famous ice cream chain for some tasters (conveniently located across the street from The Eagle).
There's a reason why Oprah apparently orders pints of this mouthwatering ice cream to her door, its ridiculously good!
With all the classic flavours and artisan blends that change every month you'll probably end up tasting most of them. To be honest, its worth the money for a scoop of this. I loved the new monthly flavour mint brownie but their classic chocolate was what I went with.
Greater's website: http://www.graeters.com/
I'm sure there's a ton more amazing places to eat but if you want to experience Cincinnati's food culture you won't want to miss Skyline, if you want to go to fried chicken heaven The Eagle will not disappoint, and when you're full and need something for desert Grater's is a must!
What do you think of these picks for Cincinnati's best eats?
Happy Travels,
Yak
https://borderlesstravels.com/wp-content/uploads/2014/05/photo.jpg
600
600
Ian Yacobucci
http://borderlesstravels.com/wp-content/uploads/2017/10/small-1-300x75.png
Ian Yacobucci
2014-04-07 17:09:42
2018-07-26 09:47:06
Best restaurants in Cincinnati