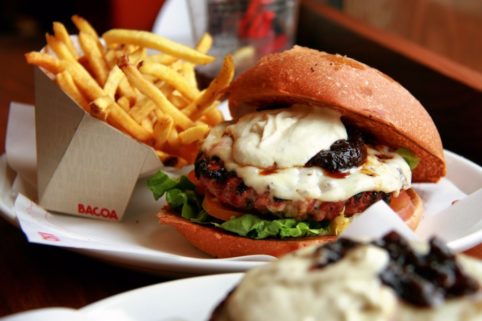 I know what you're thinking. Why would I want a burger while I'm in Barcelona?
Why wouldn't I opt for tapas (which is actually a way of dining and not a cuisine, but we'll cover that at a later point) or some other deliciously stereotypical Spanish fare like paella?
It's a fair question to ask, but while there are a lot of options for good authentic Spanish dishes, the truth is, they're quite hard to come by in a city that's saturated with restaurants to feed a starving tourist market.
Barcelona has become the third most visited city in the world with over 8 million visitors a year. With tourist hotspots in every pocket of the city, cafes and restaurants vie for the business of holiday-makers with fat wallets.
What it's led to are restaurants with identical menus that serve sub-par food to unbeknownst tourists happy to be chomping on "tapas" such as croquettes. Unfortunately, in most places these croquettes are still frozen in the middle and bought at the supermarket around the corner for a euro a bag.
So, if you don't have the resources to enjoy the luxury of one of Barcelona's tried and tested 5-star restaurants, why not give their take on a classic a try?
Unlike their American counterparts, the best burgers here are constructed with Mediterranean components that serve as culinary staples in parts of the Iberian Peninsula.
I highlight the 4 best places to get a great burger and give you a rest from all that bottled gazpacho you've been enjoying.
1. Bacoa
With locations all over the city, this is the pioneer joint that kicked off the burger craze in Barcelona. Beyond the great cuts of meat they use as the base of their offer, it's their homemade condiments that really steal the show.
Choose one of their recommended burgers or build your own, but the real appeal of Bacoa is their proprietary selection of gourmet kethcups and mayonnaise with their aioli and brava sauce as local favorites.
2. T-Burger Station
The most American of this list, T-Burger Station can't be left out simply due to the quality of their meat and the integrity with which it's prepared.
Reminiscent of New York's Shake Shack, T-Burger lets the beef speak for itself on a nice brioche bun accompanied by simple ingredients.
The best part of this burger found in Barcelona's Eixample neighborhood is the way they let the fat render to a crisp, providing that crunchy contrast before getting the juice from their calculated lean to fatty meat ratio.
3. Timesburg
Similar to Bacoa, Timesburg offers excellent beef with local in-house sauces that hispanicize their sandwiches.
Just as big and with all the options of their local competition, Timesburg is as safe a bet as any for an authentic Spanish or even Catalan (depending on the ingredients you choose) burger you can get.
4. Foc i Oli
Tucked away in a quant corner of Eixample, this small grill is always overflowing with locals grabbing a bite, which is a testament to its quality.
Other than its popularity, for an English speaker, its name is also quite an attention-grabber. Without knowing better, you'd think it's a cheeky attempt at wordplay, but really, it just means fire and oil in Catalan.
With great burgers that provide a gourmet twist, the charm of the place is all about the ambience of their small location that makes it feel like a well-kept local secret.
Don't think you're diminishing your Spanish experience by opting for a burger instead of more traditional fare. You'll be glad you visited any of these sites for a hybrid Hispano-American culinary experience. Then you can go back to eating all the frozen croquettes and sangria you desire.
https://borderlesstravels.com/wp-content/uploads/2016/12/Bacoa-2-e1481307131412.jpg
600
900
Chriskosmo
http://borderlesstravels.com/wp-content/uploads/2017/10/small-1-300x75.png
Chriskosmo
2016-12-19 03:42:45
2018-07-26 09:25:35
Spain| 4 Best Places to Get a Burger in Barcelona