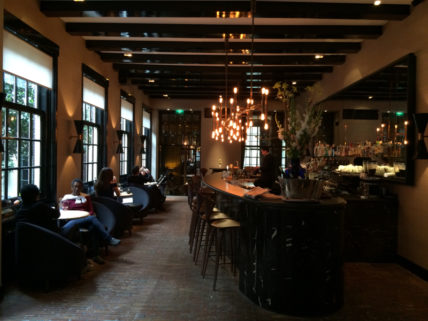 This incredible meal served by Michelin starred Vinkeles' Executive Chef Dennis Kuipers affordable for anyone looking at a fancy night out on the town. Sure, the Netherlands multicultural mecca of Amsterdam offers up hundreds of food choices for your night out, but none of them can boast a five star experience at €39.50 per person.
During the customary high tea hours from 3:30 – 5:30 The Dylan has thrown dust to the wind and said goodbye to tea and hello to wine. Yes, that's right, each meal is served with four half glasses of wine along side amuse-bouches food pairings from their Michelin stared 'Vinkeles' team.
For those unacquainted with fine dining, a one star Michelin ranked restaurant means it's classified as, "a very good restaurant in its category" by the worlds most famous restaurant ranking, and the Vinkeles team does not disappoint.
Served in The Dylan hotel's stylishly cosmopolitan Brasserie OCCO, each titillating bite of food is matched to sommelier selected seasonal wines from across Europe. High Wine at The Dylan Amsterdam is more than just an afternoon of wine and food, it's a gastronomical experience meticulously designed to match each season.
The elegant ambiance of the OCCO does not go unnoticed as you're seated by it's professional and friendly staff. Once you're comfortable you'll notice that creativity and ingenuity is always at the forefront of The Dylan's creations, and experimenting at the bar is one way they keep things exciting. Might I suggest a virgin tonic mocktail with house-brewed gin for a starter as you take in the rustic setting and wait for your first pairing.
As the High Wine experience at The Dylan is seasonal, each carefully selected wine and it's exceptionally complimented dish is often changing. For our menu, we enjoyed the following four exquisite pairings.
 

High Wine at The Dylan Amsterdam
First Dish: Hamachi with marinated daikon, cucumber and sesame
Impression: cold refreshing yet savoury and full flavoured. Paired with a smooth and crisp white wine exclusive to The Dylan, this dish is something uniquely delicious and textured with crunch as the cucumber and daikon soothes the palate
Wine: Made for Friends, Weisburgunder, Pfalz, Germany
Winemaker: Alex Pflüger
Second Dish: Cod with red beetroot, celeriac and a watercress sauce
Impression: Matched with a sweet wine, the layers of sauce match the savoury cod that melts like butter as it soothes your palate while the crispy skin fills out the sweet beet and watercress sauce
Wine: Mourgues du Grés, Costieres de Nimes, Rhône, France
Third Dish: Chicken breast, corn, little jam, pancetta and tarragon sauce
Impressions: The wine, served at temperatures between red and white, embodies a peachy flavor created with a blend of Grecian grapes that remains full bodied, smooth, and sweet. Along with farmhouse chicken that's unstoppably good because you can't stop eating it – maybe because we were three glasses in – is a fun main with a unique use of popcorn.
Wine: Ladybird White, Pella, Greece
Winemaker: Ktima Ligas
Dessert: Red cabbage tart with apple and Ceylon cinnamon ice-cream
Impressions: My mom would love something like this.  The tart has nice texture and flavor (not to sweet) that blends well with the sweet wine. With this dish, texture and temperature do not go unnoticed, everything is taken into consideration.
Wine: Seewinkel Spätlese, Sauvignon Blanc, Neusiedlersee, Austria
Winemaker: Weingut Tschida
After nearly two and a half hours of eating and drinking. My fiancé and I thoroughly enjoyed each exquisite dish paired perfectly to their wine. The variety and healthy portion of food left us feeling satisfied and ready for an evening stroll along the canals.
In the end, don't let the miniature utensils deceive you when your treating yourself to High Wine at They Dylan; the pairings are layered with flavour and texture, the wines are unique and varied, the ambience is elegant and comfortable, and you'll finish with the entire evening ahead of you.
For more information check out the OCCO Bar & Brasserie and High Wine at the Dylan Amsterdam
https://borderlesstravels.com/wp-content/uploads/2016/04/OCCO-Bar-Brasserie-The-Dylan-Amsterdam.jpg
600
800
Ian Yacobucci
http://borderlesstravels.com/wp-content/uploads/2017/10/small-1-300x75.png
Ian Yacobucci
2016-04-12 13:57:14
2018-07-26 09:31:30
Best food in Amsterdam | Affordable High Class Dinner at The Dylan