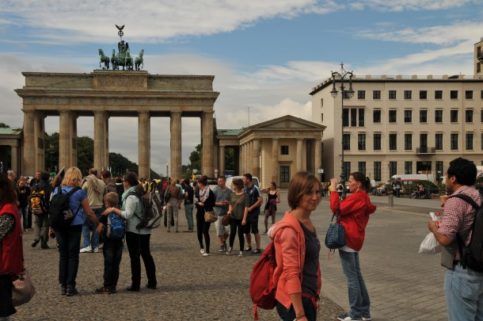 Berlin is an amazing city! There's so much to do and see, not to mention how chill the people are, the fact that you can drink in the streets, buy beer everywhere, club for days straight (yes, some stay open from Friday till Monday), and get good cheap food from all over the world.
The best part about Berlin is the fact that you can experience the heart of the city's culture and history for free. I mean you'll need to buy a train ticket or two, but as far as paying to explore the city and learning about its history, forget it.
Here's my list of five awesome things to do in Berlin, and they're all absolutely free!
1. Go urban exploring –
After the fall of the Berlin wall in 1989 the city was transformed. Yet still, old buildings, amusement parts, hospitals, and train yards were abandoned, like many ex-soviet countries, making Berlin a haven for urban exploring.
I'd recommend visiting the Bahnbetriebswerl Pankow-Heinersdorf train yard. It's extremely easy to get to and offers a wide range of buildings to explore. With amazing graffiti and unique derelict architecture you won't want to forget your camera for this one.
How to get to Pankow-Heinersdorf train yard: Go to the Pankow-Heinersdorf train stop, cross the bridge, and start exploring!!
2. Visit Check-point Charlie –
Learn about Germany during World War 2 and the cold war, when East Germany was a soviet occupied state. The free outdoor museum just across the street from Check-point Charlie will give you a summary of the political and social environment of the times.
From 1939-1989 you'll discover what it was like for the people and governments during this time. Forget paying dozens of Euros for museums because this exhibit is absolutely free!
3. Visit the Budestag dome –
Amazing! You can visit one of the most unique architectural wonders of Berlin absolutely free. High atop the Bundestag, German parliament sits a giant glass dome offering exquisite views of the city, an innovative look at how the plenary (government house) is lit during the day, and a great place to chill for an hour.
 Note: Tours are free but you have to sign up online at
http://www.bundestag.de/htdocs_e/index.html
 4. Visit the Berlin Wall –
The Berlin wall once encased an entire city and some even say country, when East Germany was a soviet occupied state. There are a few places you can still see parts of the wall, and lines on the ground around the city mark where the original wall stood.
I'd recommend taking a look at East Side Park located in Fredrichshain near Warschauer Str. Station. Here the wall is covered in art on one side and photographs that capture the segregation that walls create in our world today.
The outdoor museum and Berliner Mauer is also really good. Here you can learn about the walls design, purpose, and the loss of human.
http://www.berliner-mauer-gedenkstaette.de/en/
5. Take a picture at the Brandenburg Gate –
It's no secret that the Brandenburg Gate is the most iconic place in Berlin. There's a reason why they put a decal on all the underground trains in the city. Simply put, if you're in Berlin, you need to go here to read the plaque and take a picture.
Cool: The men you'll see dressed up in period clothing are actually acting school students, and taking pictures is part of their studies. It costs 2€ for a pic.
Berlin is an awesome city and a few days isn't nearly enough to explore this place. With insane clubbing, awesome museums, cheap food, and an incredible history you'll want to spend months here. But like most travelers, you'll probably only have a couple days so have fun exploring Berlin for free.
Yak
https://borderlesstravels.com/wp-content/uploads/2014/05/Brandenburg-Gate-Berlin-Germany-610-x-405.jpg
405
610
Ian Yacobucci
http://borderlesstravels.com/wp-content/uploads/2017/10/small-1-300x75.png
Ian Yacobucci
2013-09-18 08:56:21
2018-07-26 10:02:04
5 ways to experience Berlin for free