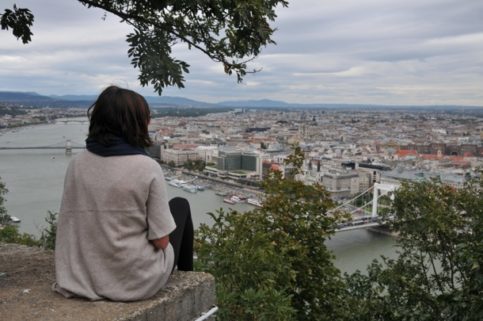 There is something for everyone in Budapest. If you're a history buff, architecture lover, art aficionado, party animal, hiker, shopper, food enthusiast, romantic, explorer, who loves meet new people, and/or want to visit a city that's just plain cool, than there's no question about it; Budapest is the best city in Europe.
For years I've been hearing whispers of Budapest, the capital city of Hungary, as an amazing place to visit; a place that has everything for everyone with a price to fit a budget traveler's wallet.
Yet, for some reason or another, I always seemed to pass it by. This year I wasn't going to miss out. With cheap flights, trains, and buses from all over Europe, Budapest is super accessible.  To be honest, with flights as cheap as 30€ return, there's no doubt that you'll get here for cheap.  And when you do, you can use Flight Hub Reviews to help streamline your commute.
So what makes Budapest the best city in Europe?
Budapest is cheap for food, drinks, and accommodations (if you're staying in hostels). A hostel in Budapest will run you between 8-10 €, alcohol at pubs and clubs only cost a couple Euros per drink, and food isn't much more.
However, if you're a vegetarian, the Hungarian diet might be a little difficult for you to swallow because it's pretty much meat, stuffed with meat, topped with meat, and cooked in grease.
If you're like me, and love a wild night out, psyche yourself up because Budapest has an unreal party scene. To experience my favourite party scene in Budapest you have to check out the world famous ruin pubs. Ruin pubs were created by converting derelict tenement houses and run down factory buildings into world-class bars that are just sick!
What's cool about these places is that they've kept the character of the abandoned buildings that were condemned to destruction. Filled with old furniture, ruin pubs have tons of bars and rooms to explore; outdoor patios covered in graffiti, and are decorated with all kinds of cool stuff. Think of the inside out club from "Night at the Roxbury" then make it 100 times more awesome!
Budapest's ruin pubs are something you won't find anywhere else in the world. The best part is there're more than thirty ruin pubs in the city. My favourite, also rated the third best bar in Europe, is Szimpla. http://www.szimpla.hu/
After a night out at the ruin pubs you're probably going to commit to, "never drinking again" (which will only last until 10 pm the following night). In the meantime you're in Budapest, which is perfect because the city has a ton of great "alchohol free" (for the most part) things to do.
On a rainy overcast day in September, I spent more than four hours at the Hungarian National Gallery, an incredible world-class art gallery located in Buda Castle. With special exhibitions (I saw an impressionist exhibit showcasing greats Monet and Renoir, and contrasting their work with their influence on Hungarian art from that period), and art dating back to the 13th century it was cool to step back into the past.
The Hungarian parliament buildings are also pretty cool to see. Make sure you go early so that you can get a ticket for a guided tour. I'd recommend getting there around 8 am or you probably won't get a spot. If you're a European national you get half price tickets.
After a day inside you should probably go exploring in the city. Budapest has several places where you get amazing views of the city, and there's lots of fantastic architecture for photography. I mean seriously, you're going to have trouble putting your camera away while you're there. I'd recommend hiking up to the Savoyai Terrace, where the liberty monument stands, for the best views of the city.
If you have extra time, you can also catch a local bus 291 to Zugligeti Libego and take the Zugliget Chair lift to the top a hill on the outskirts of Budapest. There you can hike around and visit the Jewish monument, a tower that stands far above the trees where you an unobstructed view of Budapest and the surrounding area.
If you're hung over, tired, and want to chill, Budapest is also world famous for its thermal baths (some dating back to its Turkish reign). Looking to get recognized as UNESCO world heritage sites, these thermal baths are an unparalleled place to relax, soak away that hang over, rest your body, and chill out.
If you're in the city on the weekend you can also check out a spa party. Szechenyi spa is actually the largest spa in Europe, and also hosts spa parties on Saturday nights.  Unfortunately, I didn't end up making it to the spa party, but now I have a reason to go back.
While in Budapest I only scratched the surface this amazing city.  But don't take my word for how awesome Budapest is, go there yourself and discover why it's the best city in Europe. I guarantee, once you start exploring Budapest you won't want to leave.
Happy Travels,
Yak
https://borderlesstravels.com/wp-content/uploads/2014/05/Savoyai-Terrace-Budapest-Hungary.jpg
405
610
Ian Yacobucci
http://borderlesstravels.com/wp-content/uploads/2017/10/small-1-300x75.png
Ian Yacobucci
2013-10-31 13:29:16
2018-07-26 10:01:12
Discover Budapest the best city in Europe