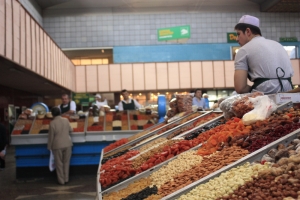 Travelling through Kazakhstan to the old capital of Almaty I discovered a market place worth a visit.
It's not often I'm impressed by a market these days. When travelling around the world markets become routine, a place where you can buy good food at discount prices along with a souvenir or two. Perhaps it was the lack of expectations I had for the Zelyony market in Almaty, Kazakhstan, or the fact that I had been travelling through Thailand, India, and China where the markets are comprised of counterfeit items including the Diesel Jeans, Calvin Clein mocs and Tiger sneakers I'm now wearing.
My first impression walking into the front doors of the bazar was disappointment. It appeared to be another market filled with beard trimmers, jewelry, women's clothes and junky souvenirs. Luckily, we decided to continue exploring and found another flea market filled with stalls selling everything from stationary to nail clippers. Wandering down the aisles we decided to enter what looked like an extension of this market when we discovered something that surprised us all.
The first thing I noticed when I entered were the endless stalls; each one selling different products. Here, people were selling beef, chicken, and horse; endless rows of fresh cheeses and produce along with an entire section of herbs, dried fruits, and nuts. On top of the fresh items sprawled out on covered countertops, stacked to attract the eye of those who walked by, were small shops that sold seeds, sweets and breads. The Zelyony market sold everything.
The best part about wandering down the aisles and taking pictures was sampling the different products each person was selling. Planning for the longest train ride I have ever taken, somewhere around 80 hours, my friends and I stalked up on fresh meat, cheeses, produce, and bread for the journey. It was fun tasting smoked horse, a popular Kazak food, and a variety of fresh cheeses as a substitute for lunch.
Taking a break from shopping we ducked upstairs to enjoy a cup of tea and compose a list of the items we needed for the train ride to Moscow. For me the most unique part of the market was the horse meat section where huge ribs, stomach and sausage were presented to the customers in the open market stalls; no refrigeration here, fresh off the horse.
The market was a great way to spend the afternoon, regardless of the shit flavoured dried kiwi we all decided to try. It offered a great environment to practice photography, try some local delicacies, and enjoy each other's company. In the end we purchased all our supplies for the train trip, enjoyed a lemon tea, and got some great pictures.
https://borderlesstravels.com/wp-content/uploads/2014/05/0d0c19531d6e29f793ed165732978408_M.jpg
200
300
Ian Yacobucci
http://borderlesstravels.com/wp-content/uploads/2017/10/small-1-300x75.png
Ian Yacobucci
2012-04-23 07:08:10
2018-07-26 11:40:57
Explore Zelyony Bazar in Almaty, Kazakhstan