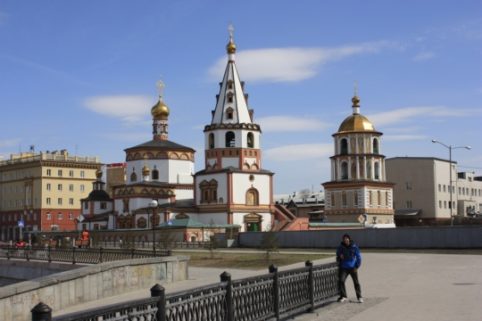 Read about my experience stopping in Irkutsk while traveling the Trans-Siberian from Beijing to Moscow.
I arrived in Irkutsk early morning after a two evening journey by train from Ulaanbaatar, Mongolia. It was the first stop of my Trans-Siberian rail trip and a great place to rest after a long journey. The train trip was excellent because my friends and I had the luxury of second class, and a four bed cabin.
Around midnight, bleary eyed as we were woken by our train car attendant, we welcomed a new guest to our room. In her mid to late forties she quietly settled in for the night and the following morning we arrived at our destination.
When we arrived in Irkutsk it took us a little while to find our hostel. Although, as we later found out, it was quite easy to find, we spent the better part of an hour searching for it. Luckily, when we arrived we were welcomed by Dimitri who ended up becoming a good friend and helping us out during our stay in Irkutsk.
Irkutsk is a great place to visit and for tourists has some very interesting sights to see. Laid out on giant maps scattered throughout the city are its architectural highlights and monuments; my friends and I found these extremely useful. It was using one of these billboards, as we walked along the Angara River, that we found a magnificent church located somewhere in the city. With nothing planned we set out to find it.
The journey took us into an industrial neighbourhood where we had to navigate some barbed wire obstacles and ask for directions several times. However, when we finally arrived at Our lady of Kazan Church we were awe struck as the freshly painted red and blue monument stood under a cloudless azure sky. It was a magnificent building, and as I stood on its front steps I was struck with that travelers sense of awe that reminds you of where you are; I was in Russia.
Irkutsk is a small city with some interesting sights but the highlight for me was definitely Our Lady of Kazan Church. This stop on the Trans-Siberian railway is a great place to spend a day or two walking around looking at the sights, and if you find yourself there on the weekend you can check out the circus. Not only is it a great city to sight see and rest from a long train ride, but Lake Baikal is located only an hour mini bus ride away.
https://borderlesstravels.com/wp-content/uploads/2014/05/113.jpg
360
540
Ian Yacobucci
http://borderlesstravels.com/wp-content/uploads/2017/10/small-1-300x75.png
Ian Yacobucci
2012-04-19 07:20:46
2018-07-26 11:41:26
Stopping on the Trans-Siberian to spend the day in Irkutsk