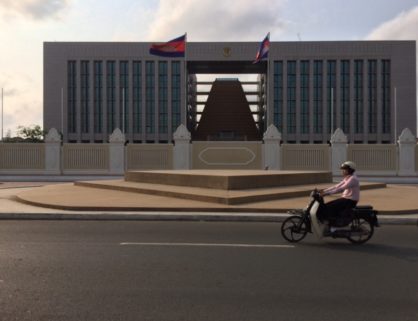 If you're coming to Cambodia to experience its world famous temples or natural beautry Phnom Penh you chose the wrong Cambodian city to visit.  Although not the most popular tourist city in Cambodia, as the national capital, Phnom Penh is a valuable starting point for visitors planning to travel this South East Asian country.
Cambodia's tumultuous history holds much of its modern foundation in Phnom Penh, strongly attributed to the Khmer Rouge take over on the 17th of April 1975.
In order to truly understand Cambodia's current situation it's important to learn the basics of the country's historical context, and Phnom Penh is the perfect place to do this.
As a working city with a few must visit attractions Phnom Penh a great place to recover from jet lag and rest.  Here's what you should stretch over a day or two if you want to get the most out of your visit to Phnom Penh
 Get a Tuk Tuk
Surprisingly, no one walks in Phnom Penh.  Seriously, scooters, cars, trucks, and tuk tuks dominate the roads and the few sidewalks that exist in the city centre. For tourists and locals alike, Tuk Tuks are the main mode of transportation.
Choosing a tuk tuk to drive you around is a negotiating process and there are tones of websites that will help you gauge a fair price.  What you willing to pay is what its worth but $20 for the day is a good start (you can throw in a lunch for your driver too).  My only advice would be to find a friendly person who speaks relatively good English so you can communicate with them and learn about what life is like in Phnom Penh.
Note: You can also get your driver to take you to a place to purchase bus tickets for the next leg of your trip (Get your tickets a day before).
 Visit Tuol Sleng Genocide Museum
An important first stop for your introductory history lesson to the tragic Khmer Rouge history that left deep national scars on Cambodia.  Tuol Sleng (also called S-21) was one of more than 200 secret prison centres scattered across the country.  In this horrific prison men, women and children were abducted, imprisoned and tortured by the Khmer Rouge.  Of the more than 3 million Cambodians that were killed by the Khmer Rouge between 12, 000 and 20, 000 people were imprisoned here.  Only 12 were confirmed survivors.
If you're visiting Cambodia, no matter how horrible these atrocities were, it is our international responsibility as global citizens to bare witness to what humans are capable of so that we can stand up against human injustices such as the Cambodian Genocide.
BUY THE AUDIO TOUR $3
ENTRY $3
TIME: 1:30 – 2 hrs
Note: You can pay with large bills (100$) that machines give out and receive more functional change to use on your journey.
Visit the Choeung Ek Genocidal Centre (Killing Fields)
The most well known of more than 300 killing fields across Cambodia used by Pol Pot's Democratic Kampuchea regime to rid the country of enemies of the state (mostly innocent Cambodians), Choeung Ek is the location of where the government killed and disposed of the thousands of prisoners who were captive at S-21.
Visiting this place and witnessing the barbaric and cruel crimes of the Khmer Rouge will help you fully understand what happened to Cambodia during the ultra communist years from 1975-79.  At the killing fields you will literally be walking over the mass graves of thousands of people where bones and clothes can still be seen in the ground before ending up at the memorial stupa filled with the remains (hundreds of sculls and bones) of the victims are reverently preserved.  Bare witness, be respectful, and remind yourself of what you're taking pictures of and why.
BUY THE AUDIO TOUR $3
ENTRY $3
TIME: 30 min– 1 hr
Note: You can pay with large bills (100$) that machines give out and receive more functional change to use on your journey.
Central Market
If buying counterfeit anything is your thing or you need to pick up an item or two that you're missing than the massive Central Market is a worthwhile stop.
This is a barter market but remember not to be insulting when trying find a deal.
Number 1 barter rule: What you're willing to pay is what it's worth.
Relax
Phnom Penh is a massive sprawling city that doen't have an overwhelming number of tourist things to do so make sure you take advantage of it by staying at a comfortable hotel, preferably with a pool and be sure to relax.
Evening in Sisowath Quay (river side)
After a full day of history, a little shopping, and some relaxation you can end your day by spending the evening along Phnom Penh's riverside.  Popular for expats and Cambodian's alike you can enjoy lights, sights, and sounds of the local Cambodians spending time along the Meykong River's esplanade, which is lined with palm trees and green space, or hit up some of the cities better restaurants and bars.  It's a great atmosphere to grab a beer or a bite to eat, just be aware that as a touristy area there will be the typical hawkers selling drugs and tuk tuk rides by the plenty.
Happy Travels,
Yak
https://borderlesstravels.com/wp-content/uploads/2016/01/Department-of-Justice-Phnom-Penh-Cambodia-Borderless-Travels1.jpg
615
800
Ian Yacobucci
http://borderlesstravels.com/wp-content/uploads/2017/10/small-1-300x75.png
Ian Yacobucci
2016-01-11 05:14:54
2018-04-20 06:16:18
Cambodia| Get the most out of Phnom Penh