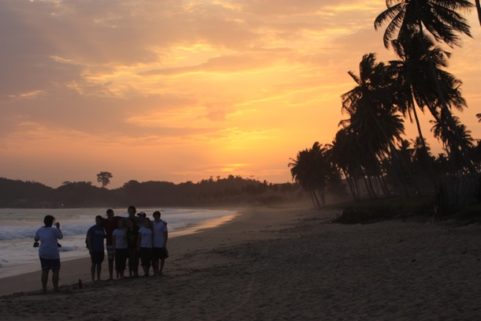 It's not travel blogging and no I don't make a ton of money but as I sit overlooking the Atlantic Ocean, watching the youth group I've brought to Ghana discuss how to change our world and make it a better place for all, there's no question that I've found the best job in the world!
Empowering youth to change the world, traveling overseas, and working in partnership with international charities, social enterprises, youth, and disadvantaged communities is what I do.
I work as a Me to We trips facilitator and my job is to take youth on volunteer trips to developing countries around the world.
In a world where %40 of the population lives on less than 2 dollars a day, where there are more slaves now than any time in human history, 220 million of which are child labourers, and where more than 1 billion people go hungry every night, our world needs to change and this is what I hope I'm helping to do.
So now you're probably wondering what I do and what my job entails. Basically, I take participants, most of which are youth groups, to work with Free the Children on various development projects within their sustainable development model.
My job is to facilitate leadership activities, discussions, action planning (what participants can do once they're home to take action on their experience), and help with reintegration once the trip is over. My responsibilities also include supervising groups to make sure they are safe and healthy while they work and live in rural communities in China, Ecuador, Ghana, Kenya, and Nicaragua.
Me to We trip participants work in partnership with the international charity and educational partner Free the Children. This organization works with communities in developing countries to cultivate a sustainable development model that creates opportunity and alleviate the effects of poverty.
This development model is designed to allow a community to be self-sustainable within the 5 years of working in partnership with Free the Children after which the organization leaves the community, but maintains a supportive role. They work with each community to give them a hand up not a hand out so that they are getting the necessary support they need to thrive, create opportunity, and live healthy.
On every Me to We trip I work to help participants understand what they are witnessing and experiencing while in country. This is done through discussions as well as activities where I help them understand human rights and social injustices that plague our world, challenge theirs as well as global perceptions, understand who they are, what they are doing, and how they can continue to make a difference in the world when they get home.
I guess it's easy to see why this is the best travel job in the world. Not only do I get to work with remarkable and passionate youth who want to change the world. I also get to travel to amazing destinations while meeting, learning from, and working along side the incredible people at Me to We, Free the Children, and all their community partners.
By helping trip participants understand their world and what needs to change I'm also developing myself. Through experiential learning, the most powerful form of education, I get the responsibility of informing our youth, creating awareness, and empowering them to change the world.
I am just one small part of a global movement to change the world and I hope after reading this I've been able to inspire you to do the same.  You don't have to work as a facilitator like me to make a difference. There are lots of things you can do to ensure that our world is a better place for generations to come, and checking out the links below is your first step to doing so!
ME TO WE – To learn more about how you can get involved in changing the world and Me to We by learning about their different campaigns, volunteer abroad opportunities, and so much more…
 FREE THE CHILDREN – To get more information about Free the Children and how you can get involved to make a difference in our world today and for generations to come!
https://borderlesstravels.com/wp-content/uploads/2014/05/sunset-in-ghana-western-region.jpg
407
610
Ian Yacobucci
http://borderlesstravels.com/wp-content/uploads/2017/10/small-1-300x75.png
Ian Yacobucci
2013-03-22 06:29:59
2018-03-27 20:24:34
Best travel job in the world revealed