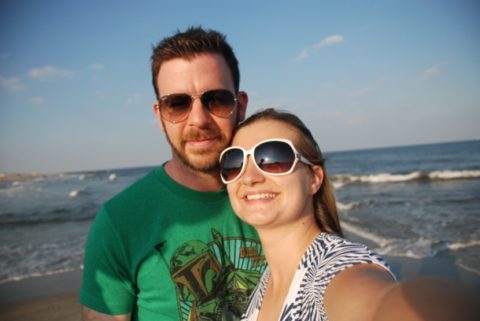 Borderless Travels went out to interview real everyday life travelers because these men and women, who take a leap of faith to follow their travel and lifestyle dreams, are the people who can motivate us to follow our travel dreams too!
Keith Voss left America almost 5 years ago to follow his heart and since then he hasn't looked back. At 30 he left his family and friends, the Manhattan job in the movie trailer business, and his Ford GT to move to Graz, Austria with his wife Kay.
Since moving in 2008, Keith speaks German, has travelled most of Europe, visited Asia, played for the Graz Gladiators lacrosse team and his genuinely happy living a life overseas, 6000 miles away from home. I sat down with Keith to ask him a few questions about what it was like to leave his home, travel the world, and start a new life in a different country.
How hard was it to leave home? So many people wish they could live and work in a new country but are afraid to leave the comforts of their lives at home, how did you do it?
Well, to put it simply, it was very hard. At 30, I was leaving my job of ten years, and saying goodbye, really, for the first time to my family and friends. But I knew where I wanted to be. My wife was born in Austria and had moved to the States when she was very young. She moved back to Austria when she was older, and while she was visiting the States, we met through friends at a party in New York City. After a few dates and seeing each other only every three months, we just couldn't continue on with a long distance relationship unless one of us made a sacrifice.
Since she had already lived in the states for 22 years, and I had never lived outside of New Jersey, I thought it should be me. I really had nothing keeping me in the States; no children, mortgage, etc. So I prepared for six months, moved in with a friend to save on rent, and either put all of my belongings in storage or donated them. I paid off all my bills and credit cards, saved my money, and really just limited myself to the basics.
I came to Austria with 3 bags of clothes, some of my favorite DVD's, and a curiosity to explore this new world that I had just arrived in. Truman Capote once said "Love, having no geography, knows no boundaries." I've never agreed with anything more, and that quote sums up in one sentence how I feel about my move to Austria.
What challenges did you face when you first moved to Austria?
I think the biggest challenge I had was integrating into the lifestyle, which is a bit more relaxed than New York. Trying to pass the time was challenging as well; suddenly I had tons of it! It forced me to get more creative than I had been in a long time. For the first time in my life, I was the foreigner, so that was also a new experience for me. I like to think that I adapt to situations and places very quickly, and I definitely had lots of support and love from everyone around me.
What was it like finding work and learning the language?
When I first moved here some friends chipped in for a month long, four hour a day, intensive German language course; and 5 years later I'm still learning the language (laughs).
I was brought up in a household where Italian was spoken quite often, but I had always wanted to learn German from a very young age. German is quite tough though, I try to work on it almost everyday, but when you're the English native speaker, EVERYONE wants to speak English with you! (Laughs)
Since moving, you mentioned that you've been able to travel across most of Europe. What countries have you visited?
I'm lucky because Austria is in the center of Europe and other countries that I've always wanted to visit are easily accessible. Since living here I've been to Spain, France, England, Germany, Finland, Hungary, Slovenia, Croatia, Czech Republic, Italy, Serbia and even went to Turkey for a week.
Some of those are countries I never even dreamed I would ever see, and probably never would have seen if I didn't make the move! I was also lucky enough to play Lacrosse in some of those countries, and will be returning to the Netherlands in June to watch my wife play in the European Lacrosse Championships.
Learning a new sport like lacrosse overseas sounds like a cool thing to do, how did you get involved and was it difficult to learn?
Well, I did pick up a stick a few times before moving to Austria, but I really got involved with the Gladiators once I was living here. My wife is an amazing player, so we had the interest of the game already in common and I had always wanted to play lacrosse at a competitive level.
Working all those years in New York, I had long hours both working and commuting, so I never really had extra time for sports, or much else, besides work. Since I wasn't exactly working full time when I first moved here, it was a great way to get some exercise, have some fun, and meet new friends
What advice would you give someone thinking about or wanting to move to a new country?
Do it! It's not easy, but what in life is? I'll tell you, there's almost nothing more rewarding than discovering the world, because in doing that, you discover the most important thing: Yourself.
I've seen and done things I probably never would have even dreamed of if I didn't take the chance of moving to another country to be with someone I love.
And if it didn't work out? Then I would have come back to the States and carried on with my old life saying, "hey, at least I gave it a shot".
To lean more about Keith's Lacrosse club check out http://www.graz-gladiators.com/
https://borderlesstravels.com/wp-content/uploads/2014/05/Keith-and-kay.jpg
408
610
Ian Yacobucci
http://borderlesstravels.com/wp-content/uploads/2017/10/small-1-300x75.png
Ian Yacobucci
2013-02-14 10:05:03
2018-03-27 20:27:50
Interview a traveler | Leaving his Manhattan life Keith moves to Austria for love