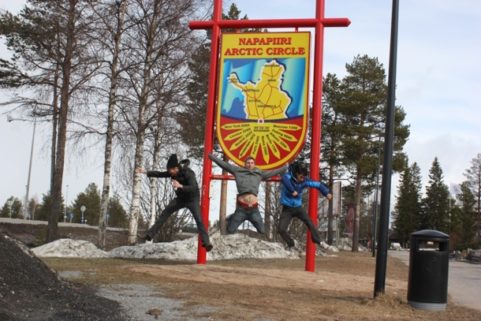 Upon arrival in an expensive country it always helps to have a few money-saving tips and tricks. While visiting Finland I could have used some of this advice. Located in Scandinavia, bordering Russia and Sweden, Finland is not a cheap country to visit; however, with proper planning this country easily becomes an accessible place to visit.
1. Travel in a small group – if you travel in small groups it becomes easy to split the cost of hotel rooms, rental cars, and rounds of beer. If you're in Helsinki and need a place to stay I recommend getting a room at the Omena Hotel where a 75 € a night room can be shared by up to 4 people.
2. Eat out of the supermarket – bread, cheese, lettuce, and fruit are healthy choices that will save you money. If you're an economical shopper you can easily eat for 5-8€ per meal. That's all there is to it.
3. Rent a Car – A visit to Finland would not be complete without seeing the Arctic Circle and Santa Claus, but when I found out the train would cost 500€ return my friends and I quickly searched for another option. The best bet is to rent a car which costs around 230€ for 5 days. If you're in Helsinki check out Lacara car rental and talk with Timo Georgsson – he'll help you out.
4. Visit during the off-season – everything is cheaper in the off-season (Sept – May) and in Finland you can usually ask for deals beyond off-season prices when traveling during this time; remember if you don't ask you won't get. Early May was when I traveled through Finland, and although a little cold I was able to experience the midnight sun and swimming in a frozen river.
5. Rent a Cottage – On our way to Rovaniemi my friends and I discovered that the cheapest way to enjoy the natural beauty of the Arctic Circle was to rent a cottage. For 180€ for two nights we found a cottage that fit eight people (or more) and offered all modern amenities including a sauna. It was located right on a lake only 30 km from Roveniemi. All I can say is do it!
If you follow these few tips you're guaranteed to save money while travelling in Finland. As the home of Santa Claus and the most accessible way to see the Arctic Circle, Finland is one Northern European country that should not be missed.
Happy Travels,
Yak
Tips:
Ahonen Holiday Cottages offers great deals and the cottages are located on lake Vikajärvi about 30 kilometres from the centre of Rovaniemi.
https://borderlesstravels.com/wp-content/uploads/2014/05/Arctic-circle-finland-how-to-save-money-main-2.jpg
407
610
Ian Yacobucci
http://borderlesstravels.com/wp-content/uploads/2017/10/small-1-300x75.png
Ian Yacobucci
2013-01-02 08:45:26
2018-07-26 11:28:06
5 tips guaranteed to save you money traveling Finland