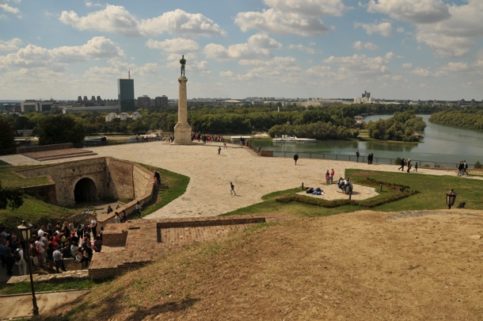 While everyone is off traveling in Western Europe's famous cities now is the best time to travel to Europe's best kept secret, Belgrade. There's something special about Belgrade, a city that I think will change when mass tourism gets there, so you'd better get there first.
Maybe it's the world class partying, the lifestyle, food, culture, history, people, or price that makes Belgrade an incredible city for exploring; but, as a developing travel destination, each day peeled back another layer of Belgrade that made me want to keep exploring.
After the 1999 NATO bombings, concluding the last war in Europe, the ex-Yugoslavian nation has seen a resurgence of art, culture, and tourism. These all intertwine to make a visit to Belgrade one of the newest travel destinations in Europe.
If anything, one of the biggest reasons for people visiting is the partying in Belgrade. Recognized as one of the best party cities in Europe, of course there's still Berlin and Budapest, Belgrade is on track to match them both.
Belgrade offers both a summer and winter night club scene. In the summer, the Belgrade nightclub scene is located on the rivers, where barges offer cheap drinks and music to suit every taste. If you're into house, techno, hip hop, alternative, or mainstream music there's a party boat for you.
In the winter (October to May) the clubs move to the city.  No matter what season you choose to party in both you can party until morning.  If you're lucky you might even meet some locals who can take you to a traditional Serbian night club for the last hours before sunrise.
In order to go out properly in Belgrade there are a few things you need to do.  Nights out in Belgrade usually start off at traditional Kafana's where you can taste rakjia, the national drink (made with fermented fruit). Kafanas are a place where you can listen to traditional Serbian music, eat food, and try different types of rakjia; and yes you can start first thing in the morning or head out at a more reasonable hour.
The best way to discover Belgrades night life is to ask a local. One place that you won't want to miss is Bigz. Now a converted art, club, and bar scene, the 10 story Yugoslavian architectural icon, once slated for destruction by the city, is the coolest place I've ever been.
Bigz is the hub of the art scene in Belgrade. With hundreds of rooms, now music and art studios, Bigz is something special that can't be found anywhere else in the world. The hallways are decorated with incredible graffiti and wall art that could easily keep you busy exploring the building for hours.
What makes Bigz special is Jazz Klub Cekaunica (pronounced chekonitsa), which situated on the top floor of the building and is my favourite bar in Europe!
Get down to funky jazz music created by Belgrade musicians studying at the top music schools in Europe while enjoying a drink, or head out on the patio to absorb the best view in the city. I guarantee that once you get there you'll find hard to leave for the clubs.
After a night out in Belgrade you're going to want to spend a day or two exploring some of the cities cultural sites. I'd recommend starting your visit of the city with a free Belgrade walking tour, run by www.belgradewalkingtours.com.
The tour I went on was one of the best city tours I've ever experienced. The tour guide showed us all of the main cultural and historical sites which included the Kalemedgan fortress, Skadarlija (the bohemian quarter with all the traditional Kafanas), along with a few other places.
On the tour our guide brought rakia for us to try (at 11 am), described traditional foods we should eat, pointed out historical places to visit, showed us the national bank (where you can get a free Serbian bill with your face on it), and described the party scene for later that night.
Belgrade is such a chill city. One of my favourite things to do was take in a sunset at Kalemedgan fortress where the controversial statue of Pobednik overlooks new Belgrade and Zemun, where the Danube and Sava rivers converge.
Food was also super cheap and there are lots of restaurants and café's to explore along Knez Mihailova street, the main pedestrian street in the city. I found a restaurant called Little Bay that I'd highly recommend.
The interior is designed to mirror an old opera house and a full course meal with homemade lemonade, coffee, and desert will cost around $10.
The Sunday roast is unreal, so make a reservation because they run out of food fast. If you visit in the evening the atmosphere is incredible. Live piano duets fill the open ceilinged restaurant while patrons enjoy their gourmet meals.
I can't speak highly enough of Belgrade, and there is so much I have left to discover in Serbia's capital city. If you're looking for a place with a fantastic night life, great food, wonderful people, and unique history then you have to visit Belgrade before everyone else discovers this amazing city.
Happy travels,
Yak
https://borderlesstravels.com/wp-content/uploads/2014/05/Pobednik-monument-Kalemedgan-Fortress-Belgrade-Serbia.jpg
405
610
Ian Yacobucci
http://borderlesstravels.com/wp-content/uploads/2017/10/small-1-300x75.png
Ian Yacobucci
2013-11-26 01:00:50
2018-07-26 09:58:21
Why Belgrade, Serbia is Europe's best kept secret