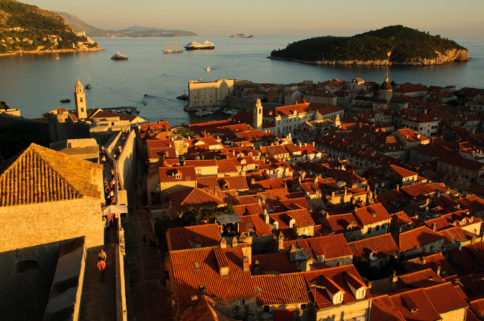 With millions of tourists visiting each year, there're hundreds of reasons that make Dubrovnik a popular European destination. Yet, I came as a skeptic knowing that popular European cities can be busy, expensive, and the lack excitement of a truly foreign place. These misconceptions were foolish because Dubrovnik has some incredible surprises that make it a world-class travel destination for everyone.
Whether you're a traveler who's been on the road for months or visiting on a cruise ship stopover, for the adventurous or the lase fare relax on the beach type, there is something to suit everyone's tastes in Dubrovnik.
Here are a few things I discovered that surprised me about Dubrovnik and made the pearl of the Adriatic an astonishing city to explore, and a place that I didn't want to leave
1.  Walk the old town fortress walls
I know, you have to pay for this one but 90 HRK ($16) is nothing for the hour and a half walk around the fortified walls of Dubrovnik. I'd recommend going an hour before sunset and starting near the docks. This will give you plenty of time to explore the highest parts of the wall and shoot some incredible photographs of the city and sea.
Walking ancient walls may sound boring, but looking over Dubrovnik's old town thinking of what life in the 1500's must have been like is pretty cool. Not to mention the person reflective time you get while exploring your own thoughts and feelings about life as you sitting looking out at the world. And you'll get some pretty badass pictures.
2.  Hike, swim and cliff jump on Lokrum Island
When you're tired of the city you can get away and explore nature on Lokrum Island. It's only a 15min ferry ride from Dubrovnik and costs 60 HRK ($10) return. I loved hiking around the island and even found a place for cliff jumping. There's also a grotto for swimming and a restaurant if that's your thing. I decided to save money and bring a lunch and chilled on the rocks at the back of the island. It took a little time to hike down safely, but it was well worth getting away from the crowds.
3.  Explore the old town
Known as the pearl of the Adriatic, old town Dubrovnik's white marble streets are, for lack of a better word, spectacular! When it's not to hot or busy (late evening) strolling through old town Dubrovnik's winding streets finding a small place to grab a coffee or a beer, taking pictures, and window shopping are great way to spend a few hours.
4.  Take in the view from Srd Hill via the Dubrovnik Cable Car
Another sunset visit will set you up perfectly for a picturesque view of Dubrovnik and its surrounding islands. I'd recommend ditching the tourist spots and hiking around the side of the museum. There, the cliffs are unhindered by tourist safety barriers and offer unobscured views of the area (plus it's way more romantic if you're traveling with a romance). http://www.dubrovnikcablecar.com/
Remember: Bring a tri-pod if you're a photo buff because there are some seriously sweet panoramas in this area. Well worth the 95 HRK ($17).
5.  Eat at Lady Pi-Pi Restaurant
I legitimately found this family owned restaurant by smelling the delicious food during my walk along Dubrovnik's fortified walls. When my sister and I got there around 7:30 there was already a line up. Dubrovnik can be expensive but this place definitely wasn't over the top. I mean its no $2 meal but the food is fantastic, cooked on a fire oven right in front of you, and should run you about $10. Just splurge a little; you deserve it.  https://www.facebook.com/LADY.PI.PI.Dubrovnik
These fantastic activities surprised me, and made Dubrovnik a city that I didn't want to leave. With so much to see and do Dubrovnik is a great place for every type of traveler and a European destination I highly recommend visiting.
Happy Travels,
Yak
https://borderlesstravels.com/wp-content/uploads/2015/04/Dubrovnik-Croatia.jpg
531
800
Ian Yacobucci
http://borderlesstravels.com/wp-content/uploads/2017/10/small-1-300x75.png
Ian Yacobucci
2013-12-23 11:00:29
2018-07-26 09:55:58
5 Dubrovnik surprises that shouldn't be missed