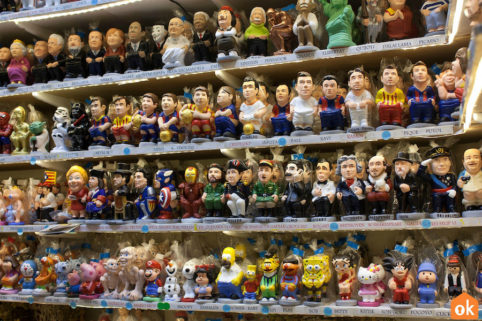 Anyone who's walked along Las Ramblas or the winding streets of the Gothic neighborhood has undoubtedly had to take a double take at what they thought they saw but had to check again, just to make sure.
To their surprise, what they're confronted with is a series of smiling figurines with pants around their ankles, taking a dump.
This is the beloved El Caganer, which translates to the Shitter in English.
Normally reserved as a cultural prop in Catalonian nativity scenes at Christmas, the Shitter is on display year-round in Barcelona gift shops, usually in the form of various celebrities that send tourists into fits of giggles and tug at their purse strings to take the perfect gifts for friends and coworkers back home: a defecating figurine that offers both a cultural artifact from their visit, and something quirky that the recipient will never use and keep in the bowels of their desk drawer until they quit or get fired.
El Caganer's story
Originating as early as the 16th century, many theories regarding the Shitter have emerged to explain the prominent rise of something so bizarre and how it found its way to the nativity scene, but they all sound made up.
They range from a depiction of feeding the earth with fertility, to a leveling device through its use of famous persons as the Shitter, all lacking any kind of historical evidence or substance.
Whatever it is, it's weird, but then again so is a glorified and celebrated fountain of a boy taking a pee in Belgium, but people flock to see the Manneken Pis without really questioning it.
So maybe the only thing to take away from this is that people are weird. That seems fitting, no?
https://borderlesstravels.com/wp-content/uploads/2016/12/El-Caganer-1.jpg
600
900
Chriskosmo
http://borderlesstravels.com/wp-content/uploads/2017/10/small-1-300x75.png
Chriskosmo
2016-12-21 15:47:10
2017-07-26 18:34:22
Nativity Poop | Who is Barcelona's Poo Figurine?