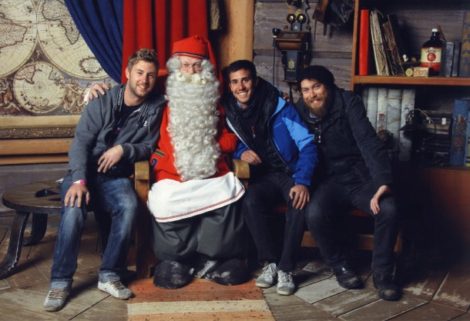 I visited Finland to prove that Santa is real, brought back pictures to prove it, and some info. so you can meet him too!
Driving north with a couple of good friends on Finland's E75 from Helsinki to Rovaniemi, there was only one thing on my mind: I was finally going to the Arctic Circle to visit Santa, a dream I'd had since I was a little child.
There's something to be said about seeing three grown men nervous to meet the man himself, even though in reality he' is just a man dressed up in a costume. Meeting Santa Clause at 66 33' 07" – the location of his main post office – unexpectedly brought about the same emotions as a child visiting Santa in the mall for the first time.
As a tourist attraction it's hard to believe that, even at the age of 26, one still can't escape those old feelings of Christmas and the giddiness that comes from a meeting with Santa. The fact that it was March made no difference, I was still excited.
Once inside Santa's office, which is of course free to visit, tourists get to explore a few different rooms before finally meeting Santa. The first thing I did was pass through the Arctic Circle which was a cave like maze with an artificially created midnight sun and some surprisingly eerie music playing in the background.
Once across the Arctic Circle I learned how Santa quickly traveled around the world on Christmas: it's the result of the Earth's Rotational Speed Regulator, which is also the reason why Santa's village is located in the Arctic Circle, it being the only place that the Earth's crust is sufficiently thin to allow the meddling of time.
Finally, past the Arctic Circle and the Earth's Rotational Speed Regulator, I ascended the steps towards Santa's Arctic office. The antechamber was full of pictures of celebrities such as Bam Margera, the Spice Girls, and Conan O'Brien posing with the man in red. I was ready.
As I came closer to Santa's official office an elf ushered my friends and me in for a meet-and-greet with the man himself. Like little children, smiles across our faces and full of nervous anticipation, my friends and I introduced ourselves to Santa Clause. With a "Ho, ho, ho," he shook our hands, asked where we lived (although he quickly passed over Ontario not bothering to mention that he'd obviously been there) and finally posed for a photo with us!
The entire meeting took only a few minutes and when it was all over we were asked about purchasing a video of our encounter, enlarged images, and an assortment of other deals. On a tight travelers' budget we all broke the cardinal "no souvenir rule" and split on the 25 € enlarged image (which we subsequently digitally scanned at a photo shop and shared with each other).
The entire experience was totally unique and definitely a highlight of my visit to Finland. It was fun visiting Santa Clause at his official office in the Arctic Circle, and the experience reminded me that touristy things can be worthwhile. The best part about the trip was how accessible this part of the North was. With little trouble my friends and I rented a car and cottage, hopped on the highway, and in less than eight hours were in the Arctic Circle and the home of Santa Clause.
https://borderlesstravels.com/wp-content/uploads/2014/05/meeting-santa-at-his-workshop-in-finland-arctic-circle-main.jpg
417
610
Ian Yacobucci
http://borderlesstravels.com/wp-content/uploads/2017/10/small-1-300x75.png
Ian Yacobucci
2012-11-10 00:15:48
2018-07-26 11:35:58
Is Santa real? A search for Santa at the Arctic Circle