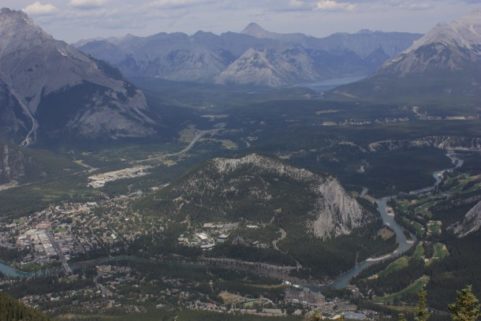 Welcome to Banff, Alberta one of the coolest towns in Canada. If you're visiting Alberta there's no excuses for missing this place. Located in a central valley, Banff is surrounded by 2000m peaks, lakes, rivers, and forest with a ton of stuff to do.
Visiting Banff I spent a couple days doing the tourist highlights, and wish I could have stayed longer…maybe even a ski season.  If you're wondering what the best things to do in Banff are then look no further because here is my top 5 list.
1. Lake Minnewanka – Guided boat trips on Lake Minnewanka have been running for 120 years. As a glacial lace surrounded by mountains guided tours are the only way to experience Lake Minnewanka. Cruising on the lake you get to truly appreciate the immensity of the Rockies as the mountain cliffs surround you. On the tour you also get to see the place where the Rockies either end or begin which is really cool.
For scuba divers a trip into the depths of Lake Minnewanka's four degree water will bring you to submerged towns that are more than 100 years old. Make sure you have your cold water and alpine diving certs.
2. Sulphur Mountain Gondola – This gondola trip will bring you to the top of Sulpher mountain at 2281m above sea levels. Historically this mountain was used as a weather and cosmic ray station, but today you can go to the top of the mountain and take in the amazing valleys and towering peaks of the Canadian Rockies. For pictures of Banff and the surrounding area you won't want to miss this.
3. Hangout Downtown – As a popular tourist destination Banff is a picturesque Canadian town that warrants a little shopping and eating. Cruising along Banff Ave. is the perfect place to grab a quick bite to eat or enjoy a fancy meal at one of the fine dining restaurants before hitting some of the shops. Don't forget to grab a photo of Cascade Mountain overlooking this picturesque main street.
4. Johsnton Canyon – Johnston Canyon is one of the most picturesque valleys in the Rockies and a short drive from Banff. This easy hike takes you through an awesome canyon ask you walk along cliff sides looking down into the crystal clear river that flows below. The hike has two main waterfalls and takes about one to two hours.  It's well worth the drive!
5. Vermillion lakes – Paddleboard, canoe, kayak, or if boating isn't your thing, go for a hike and explore these three lakes. Surrounded by the Rockies these beautiful lakes are only a few minutes drive outside of Banff.  They're a great place to spend the day hiking and picnicking.
If you have any other great ideas please feel free to leave a comment and share with other readers your favourite things to do in Banff!!
Now go out and explore the Rockies!
Yak
https://borderlesstravels.com/wp-content/uploads/2014/05/banff-alberta-610-x-407.jpg
407
610
Ian Yacobucci
http://borderlesstravels.com/wp-content/uploads/2017/10/small-1-300x75.png
Ian Yacobucci
2012-11-17 23:14:50
2018-07-26 11:34:17
5 incredible ways to experience summer in Banff, Alberta