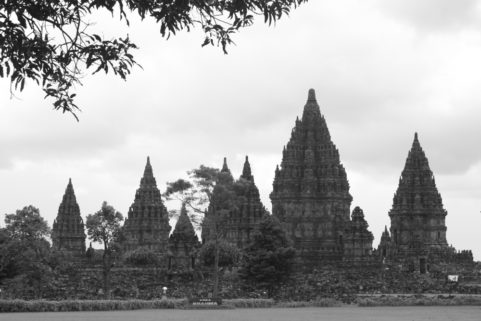 Traveling across West Java in search of waves I didn't expect to experience more than just the small surf village of Batu Karas while visiting Indonesia.  My Indonesian adventure started in Jakarta where I spent a few days pursuing a Russian travel visa for a future trip across Russia on the Trans-Siberian, along with a visit to Jakarta's M-Block mall complex.
After that I spent a couple days trying to find a whispered town from an old roommate I had, while teaching in Korea for a month.  He told me about this place called Batu Karas, a small fishing village with some tame surf that was quiet, and off the tourist track back in 2012.
After a seven hour train ride, where I met a couple of German tourists to share a room with for a night, followed a truly organic Indonesian bus experience of the same length, I finally made it to Batu Karas, where for the better part of two weeks I settled down spending my days exploring the West Java countryside with a surfboard strapped to the side of my Vespa.
While surfing in Batu I heard about Yogyakarta from a couple Finnish travelers who were in the area at the same time as me; and after a blissful two weeks disconnected from the busy cities of Indo, and exploring the costal surf in the area, it was time to move on.  So, with our packs strapped the three of us tramped over to Yogyakarta, the bohemian and cultural centre of Indonesia's Java region.
Since surfing was a priority at the time, I hadn't thought much about the cultural treasures of Indonesia. Thankfully, upon our arrival in Yogyakarta we were able to discover one of its most famous cultural sites, the UNESCO world heritage site of Prambanan temple.
A place like Yogyakarta has a ton of accomodations to stay in, from bohemian hostels to fancier options like the Hotel Tentrem Yogyakarta you're bound to find Yogyakarta's best deals with the ease of the internet.  Once you're there you have to explore places like the 10th century UNESCO world heritage site of Prembanan temple, a compound dedicated to Shiva, Vishnu, and Brama Hindu divinities.
The temple complex itself offers some great photo opportunities and, if you're lucky, you might find some free student led cultural tours as your roam the grounds (in English of course).  Although, from an Indonesian price point, it can be a little expensive for foreigners to visit, so depending on your budget, paying three times the cost of a student price might not be worth it for you.
That being said, if you take an early morning or a lazy afternoon, Prambanan offers a beautiful place to walk, relax, and photograph at your leisure.  There's no need to rush around the temple; and make sure you take advantage of the free water and coffee in the foreigner ticket office!
Happy Travels,
Yak
This article is supported by traveloka.com
https://borderlesstravels.com/wp-content/uploads/2016/11/Prambanan-Temple-Yogyakarta-UNESCO-world-heritage-site-Borderless-Travels.jpg
667
1000
Ian Yacobucci
http://borderlesstravels.com/wp-content/uploads/2017/10/small-1-300x75.png
Ian Yacobucci
2016-11-09 12:58:36
2018-07-26 09:30:19
Indonesia | Cultural Immersion at Yogyakarta's Prambanan Temple