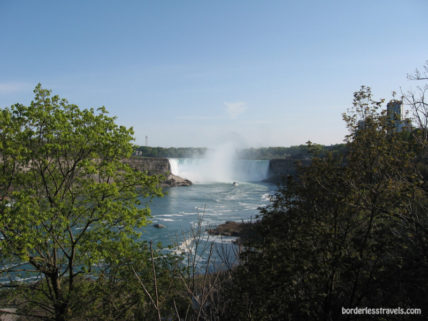 Niagara Falls Canada is home to one of Canada's most iconic natural wonders. Visitors to Niagara Falls get to experience the power of one of the worlds greatest waterfalls as the equivalent of one million bathtubs flows at nearly 50 km per hour over the edge of Canada's Horseshoe Falls.
More than just a waterfall, the city of Niagara Falls and its surroundings offer visitors to this region an opportunity to experience Canadian culture, the natural beauty of the Niagara region, and so much more.
As an educational tour guide working in Niagara Falls and other Canadian cities over the past decade I've had the privilege of building an intimate relationship with the Niagara Region. That's why, as one of the more than 8 million visitors to Niagara Falls, Expedia.ca asked me to create this guide that will give you an itinerary based on my touring experience in the city!
Day 1 – Niagara Falls
 Visit Niagara Falls at Table Rock
You can literally stand beside Niagara Falls! Less than a meter from the water you'll get to see how powerful and mighty Canada's greatest waterfall is. Take a selfie then head into the Table Rock centre for a famous Tim Horton's coffee before continuing your journey.
Walk the promenade along the Niagara Gorge
Walk from Niagara Falls (Table Rock) to Clifton Hill. It only takes about 30 minutes to walk from Niagara Falls to Clifton Hill. Along the way you'll get to experience the magnificence of Niagara Falls by walking along the gorge it created over millennia. It's one of the most impressive walks where you'll get to see the American falls on the other side of the Niagara River as well as the natural beauty of the Niagara Gorge.
Fun and lunch on Clifton Hill 
Clifton Hill is the entertainment centre of Niagara Falls. About a 30 minute walk along the impressive Niagara Gorge you find yourself surrounded by the carnival like street filled with restaurants, mini golf, bowling, a Ferris wheel, Ripleys Belive it or Not, Guiness Book of World Records, Madame Tussaud's wax museum and so much more!!
It's the perfect place to grab a quick lunch before your next adventure or a place to enjoy an evening of fun!
Take a Niagara Falls Boat tour
If you think Niagara Falls is impressive from the edge of the falls you'll be blown away looking up at it from the Niagara River. Boat tours like the Hornblower Niagara take visitors along the Niagara River where they learn stories about Niagara Falls daredevils and experience the beauty of Niagara Falls from both the American and Canadian falls.
Skylon Tower buffet dinner
A classic dinner spot, I like the Skylon Tower for the buffet's variety and the fact that it boasts a 365 degree view of Niagara Falls. Although it's a little bit out of the way from the main drag of Clifton Hill, I'd recommend a visit for lunch or dinner if you want to see a unique view of the falls and enjoy a decent meal.
Day 2 – Niagara Region – Day Trip to Niagara on the Lake
Drive the Niagara Parkway
Described by Sir Winston Churchhill as "the prettiest Sunday afternoon drive in the world" the Niagara parkway that leads from Niagara Falls to Niagara on the Lake should be on everyone's itinerary. Along the way is an opportunity to experience the natural beauty and culture of the Niagara region.
Botanical Gardens & Floral Clock
The botanical garden's is a great place to spend an early morning walking through the nearly 100 acres of manicured gardens. If you're pressed for time, or gardens aren't something you're interested in, you can stop off at Niagara Parks famous floral clock made up of 16, 000 plants to quickly to snap a picture.
Lunch and shopping in Niagara on the Lake
 Niagara on the Lake is a quaint lake side town that brings the uniqueness of colonial architecture along with with fine dining, quaint shops, and delicious café's where you can sample local wines and experience small town Canada. It's a great lunch stop where you will also find unique craft gifts and local Niagara wines to bring home for family and friends.
Embark on an afternoon Wine Tour in Niagara
The Niagara region, best known for its ice wine, hosts dozens of wineries that are a great way to spend an afternoon. You can book wine tours through local companies or plan your own visits. Ice wine is a favourite for visitors to try but the wineries host a wide range of local wines to sample.
Fallsview Casino for entertainment and/or buffet dinner
What would a visit to Niagara Falls be without a visit to one of its Casinos. If you're not a gambler that's okay, the Fallsview Casino is a great place to enjoy a dinner buffet as well as to enjoy some entertainment. You can check them out online to find out more about what shows are on and when.
Niagara Falls has so much to do and see that there's simply not enough room to share it all. These are just a few suggestions of the best way to spend your time in Niagara Falls to make sure you get to experience all that Niagara has to offer. As a tour guide in the region these are my top recommendations and the best way to spend an enjoyable visit to Niagara Falls!
Useful links for planning your next Niagara Falls trip
https://www.niagarafallstourism.com/
http://www.niagaraparks.com/
http://winecountryontario.ca/
https://borderlesstravels.com/wp-content/uploads/2016/06/Niagara-Falls-Canada-view-of-Horseshoe-falls-e1467212941226.jpg
600
800
Ian Yacobucci
http://borderlesstravels.com/wp-content/uploads/2017/10/small-1-300x75.png
Ian Yacobucci
2016-06-29 11:14:32
2018-07-26 09:30:32
Niagara Falls Top 10 | Tour guide tips to exploring the best of Niagara