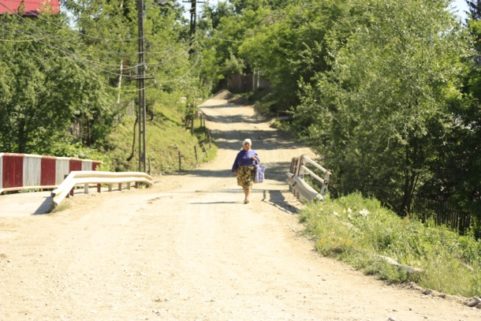 "I like, high five, very nice," rang out in various Borat accents as my friends and I arrived in Glod, Romania. It was on a road trip in Romania that we found where Borat's village was filmed and surprise, it wasn't in Kazakhstan.
Yes, you heard me right I said, "Glod, Romania". You're probably a little confused because in the movie Borat, the village where Borat was from is Kuzcek, Kazakhstan. However, in reality the scenes where Sacha Baron Cohen's infamous character Borat wanders around town introducing his family and friends actually took place in Romania.
How did we end up there?
On a road trip through Romania, an idea struck me. Back when Borat was first released I remembered hearing about Mercedes Stalenhoef who, a year after Borat was filmed, made a documentary titled "When Borat came to town", which looked at the effects the film had on the community. It was during this radio broadcast that I heard the town known as Kuzcek, Kazakhstan was actually Glod, Romania, a good several thousand miles away.
So, with a quick google search found the location Glod and shortly after my friends and I were winding our way down Romania's highway 71 in search of the town.
To be honest we weren't going to take pictures and see the exact place they filmed we just wanted to see the village, have a beer, and get a feel for the place. Lucky for us, it was on our way from Brasov back to Bucharest so we decided to make a stop.
What we discovered…
On our way we found out that the village itself is really close to a town that was quite developed with hotels, supermarkets, and a main street filled with cars and people. Surprisingly, as we drove through Glod the city wasn't as impoverished as the film Borat made it out to be, although poverty was still present.
Inconsistent to what was portrayed in the film were the concrete houses with well-maintained gardens, a small bus station, a nice school, cars, paved roads, and the fact that the village was in Romania.
It made sense that the Borat was filmed near a big city with modern amenities and comforts seeing as Romania is part of the EU, relatively close to Britain, and has a few small towns where Romanians traditional lifestyles are still maintained.
When we got there we did what anyone would do when they found Borat's home town, we found a bar to celebrate, purchased a beer, and enjoyed the atmosphere of Kuzcek, Kazakhstan. Of course, we took the opportunity to drive through the village, chat with some locals, take a few pictures, cruise its dirt roads, pass people riding rickshaws pulled by donkeys, then headed on our way.
Yes, it was nice to break down the smoke and mirrors that movies use and discover the reality behind the controversial mockumentary film. So if you're a Borat fan, even though Kuzcek, Kazakhstan is pretty far away, the real village where the film was shot is closer than you think.
https://borderlesstravels.com/wp-content/uploads/2014/05/Woman-walking-glod-romania.jpg
407
610
Ian Yacobucci
http://borderlesstravels.com/wp-content/uploads/2017/10/small-1-300x75.png
Ian Yacobucci
2013-04-08 17:35:52
2018-07-26 11:21:14
Truth behind Borat's village revealed