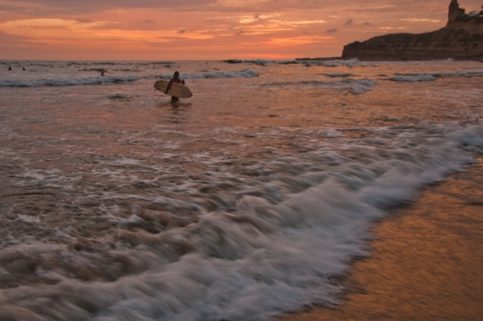 It's easy to get seduced by the surfing lifestyle in Montanita.  In fact, you pretty much can't avoid it. With an incredible beach break and a tight right hander off the north point Montanita just begs for any level of surfer to visit!
There's a reason why Montanita hosted the 2013 ISA World Masters Surfing Championship. As one of the top surf spots in Ecuador, Montanita is a spectacular place that's easy to get to, affordable, and has consistent surf all year round.
Whether you're a beginner visiting Montanita to learn to surf on the beach break or an advanced surfer that likes the variety of beach and point breaks there's surfing in Montanita for everyone.
I should also mention the fact that if you're looking for waves and Montanita isn't big enough for you there are a half dozen other surf spots along the coast only a short taxi ride from the surf town.
Not a surfer but love sun, sand, beach, and partying well Montanita is the place for you. Hosting the biggest parties on the Ecuadorian coast Montanita is a fantasyland for the uninitiated.
Many who come to visit stay for the long run because Montanita is a costal paradise that offers something for everyone. Whether you want to hit the bars and clubs till 8 am, get ridiculous on the beach at a Montanita full-moon party, or escape to the quiet north point for a beach day after a big night out I guarantee you're going to love it here!
When I first discovered Montanita I didn't have any expectations, and my two simple goals were to relax and surf. After two weeks in paradise when I finally had to leave Montanita I couldn't help but wonder when I would return.
Tucked away in a quiet oasis paradise near the point I walked to the beach every morning after breakfast to hit the waves.
During the day, the sun and sand called me so I chilled on the beach with incredible new friends that I met in Montanita, and since the waves were usually decent all day, I often went surfing too.
When late afternoon arrived it was time to get back to the waves and after another great day of surf it was back to shower up and get ready to eat and go out.
Nights in Montanita usually start on Cocktail alley where expert cocktail alchemists mix fresh fruits with your favourite spirits while everyone dances and chats until the early hours of the morning. And when the magic hour hits (usually around 1am), it's into the clubs and bars that the party moves where tourists and locals dance and party the night away.
When I told a friend in Ecuador that I was going to Montanita to surf and chill he told me to enjoy my time in Neverland. I didn't know what he meant until my time in Montanita came to an end and I realized that Montanita is a fantasyland that you shouldn't wait to discover!
Happy Travels,
Yak
https://borderlesstravels.com/wp-content/uploads/2014/05/Surfing-at-sunset-in-Montanita-Ecuador.jpg
405
610
Ian Yacobucci
http://borderlesstravels.com/wp-content/uploads/2017/10/small-1-300x75.png
Ian Yacobucci
2014-05-22 10:03:47
2018-07-26 09:42:59
Ecuador Surf Diary: surfing and partying in Montanita