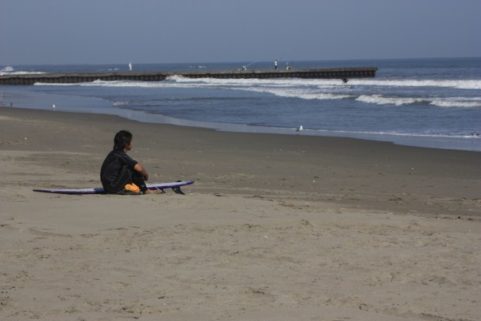 I head to the beach to catch some September surf just outside the megalopolis of Tokyo, Japan
Surfing in Tokyo is easy if you're willing to make the hour long trip out to Chiba prefecture where the hustle and bustle of the worlds biggest city melts away into sun, sand, and surf.
On a recent September surf trip I discovered Kujikuri beach when I headed to the coast, with some local friends, to escape the hectic city and hit the waves. The laid back atmosphere of surfers in shorts and flip flops chilling out around the surf shop was a welcomed contrast to the busy city.
I spent my time at Shirako beach, one of the many scattered along Chiba's 60Km of sandy coastline. It was here that my friends took me to Liberty Surf, a local surf shop that offered board rentals, wet suits and lessons. Rental costs aren't the cheapest but it's totally worth it for a day of surfing.
Getting to the beach from Tokyo is easy to do by train, but you often have to transfer to buses if you're going to go to some of the better surf spots. I'd recommend renting a car or making some surf friends that regularly head to the beach.
If you go, don't forget to leave your sandals at the foot of the beach before you hit the surf. Along Kujukuri beach there are few different beaches you can surf and most of them offer beach breaks that are pretty forgiving.
Chiba's beach breaks are most popular for long boarding but depending on the swell there're plenty of waves for short board talent. The only things you have to be careful of are the currents, but it's easy enough to get information from a surf shop or fellow surfer.
For me rocking a long board at Shirako beach was an unreal experience because it was so different from life in Tokyo. As I sat on my board waiting to catch my next wave, watching fish jump around me, soaking in the sun, I realized it was the most relaxed I'd been since I started working in Tokyo.
There were very few people in the water, even less on the beach, and the fact that there was surfing only an hour away from Tokyo and a beach with 60Km of sandy coastline was something worth checking out.
Tally:
Surf board rental – 2000¥ ($20 USD) for the day
Wet suit rental – 2500¥ ($25 USD) for the day;
Lessons – 1500¥ ($15 USD) 3 hours
Note: Rental costs are pretty standard along Kujukiri beach
Liberty Surf – contact info.
Tel: 0475-77-1171
Email: enjoy1@liberty-surf.jp
https://borderlesstravels.com/wp-content/uploads/2014/05/Surfer-taking-a-break-on-Kujukuri-Beach-Chiba-Japan.jpg
407
610
Ian Yacobucci
http://borderlesstravels.com/wp-content/uploads/2017/10/small-1-300x75.png
Ian Yacobucci
2012-11-12 00:15:01
2018-07-26 11:35:43
Japan| How to Surf in Tokyo