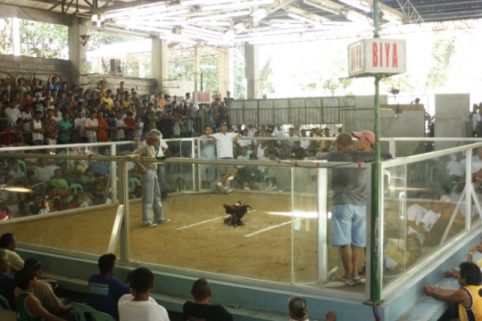 Cockfights are a celebrated national pastime in the Philippines. I spent the afternoon in Valencia learning about the ins and outs of betting on a cockfight and walks away with a few extra pesos in his pocket.
Contrary to most countries where cockfighting is illegal, in the Philippines, the so called 'sport' is a celebrated national pastime. In fact, to go a day without hearing the all too familiar cock-a-doodle-doo of a rooster is rare in the Philippines, regardless of whether you're in Manila or a small island town.
Cockfighting in the Philippines is a spectator sport that pits two roosters against each other in a fight to the death, or a cowardly defeat. Easily accessible to tourists, cockfighting is located in most cities throughout the Philippines.
On a Sunday afternoon when cockfighting is most common, my friends and I made the 30 minute scooter ride through the mountains from Dumaguete to Valencia, considered the best location in the Negros to watch a cockfight. Valencia's cool mountain air, lush jungle, and mountainous terrain makes it a great place to spend an afternoon.
Cockfighting is not for everyone. It can be extremely gruesome and pays no attention to animal rights. However, if you want to experience Filipino culture like a local, watching the fights, trying to figure out how to make a bet, and taking in the electric atmosphere, it's something worth trying. Watching a cockfight in the Philippines is an admittedly strange but unique experience you won't find anywhere else.
In the beginning, the only two things you need to know are Inilog and Biya, the names of the competitors. Inilog roughly translated means 'to push your way out of a crowd' whereas Biya means 'to let go'. As you might expect, the odds are usually in favour of Inilog. Before a fight, the two competing foul are exhibited to spectators in the centre of the arena. Shortly after, the mayhem begins, and the place erupts into a fury of hand gestures, flailing arms and yelling, the muddled sounds ofInilog or Biya filling the arena.
There are no score boards , TVs or computers calculating odds and giving competitor details before each fight. Here in the Philippines it's back to the basics. If you're planning on making a bet, it's best to first take some time and observe the chaotic environment of a Filipino cockfight. The charged atmosphere seems like pandemonium at first, but is actually a unique system of betting based on trust and honesty. Try to find a local who understands the system to help you make your first few bets.
We met our cockfight betting guide Lino after taking in a few fights. Working in distribution and circulation for The Mirror, a popular Manila newspaper, Lino visits his home town of Valencia on weekends to place bets on the local cockfights. Lino gave us a good breakdown of the betting system.
Before the fight even starts, hand gestures are used to set the odds. If you're planning on making a bet, you have to find someone to accept it, and when you do, a hand gesture or nod usually solidifies the deal. Of course, there is no 'house' and there are no regulators or police, so each bet is made one-on-one, the terms of the deal organized before the fight starts. As a result the occasional disagreement can disrupt the organized chaos if two betters confuse, or go back on, the terms of their deal.
When it comes to training, each individual rooster is groomed by their owners, and as Lino informed us, there are no rules or regulations. It's anything goes; steroids and vitamins are combined with various diets to give each competitor the best advantage. For most trainers, a win can mean big money, so most of them bet in favour of their own rooster. It's not uncommon for some roosters to win up to 5 or 6 consecutive fights as Lino showed me on his homemade betting sheet, a scrap of paper with the chickens names and wins.
After a few hours of betting with Lino, watching our chosen roosters battle, it was time for us to go. Thanks to Lino's help we all left with a few extra pesos in our pockets and a better understanding of this Filipino pastime. We saw all types of wins and losses, even a draw, as we enjoyed our Sunday afternoon in the Valencia Cock pit. If you think you're able to stomach a cockfight, be sure to ask for the nearest arena and head over for an experience you won't find anywhere else in the world.
Tips:
1. Don't make your own bets. Odds are created using a complicated system of hand gestures and signals, and unless specified, are not 50/50. If you do plan on making a bet with even odds, make sure there's a mutual understanding before you make the deal.
2. Find someone trustworthy. If you manage to meet a nice local person in the city or at the arena who is willing to help make bets, it makes the experience a lot more fun. Usually, you can pool your money together in order to make a bet. Be careful not to bet too much until you know you're being fairly treated.
3. Bring your camera. A cockfighting arena is a great place to practice taking those perfectphotographs. You can capture everything from the action of the fight, to close-ups of people betting. If you're not the gambling type, this is a great way to enjoy the experience.
Tally:
Bets vary depending on the fight and the individual. A good starting point is usually about 100 pesos
1000 Pesos = 10 Bets at 100 pesos per bet
https://borderlesstravels.com/wp-content/uploads/2012/02/16.jpg
360
540
Ian Yacobucci
http://borderlesstravels.com/wp-content/uploads/2017/10/small-1-300x75.png
Ian Yacobucci
2012-02-20 00:31:33
2018-07-26 11:51:29
Philippines| Spectating a Cockfight in Valencia