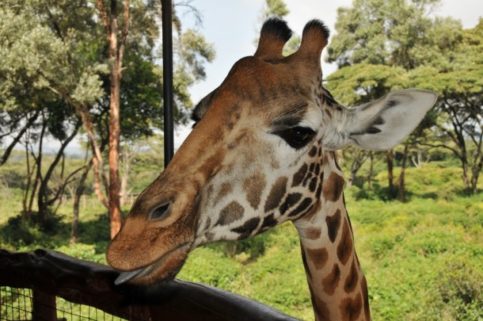 I closed my eyes as the 15 inch tongue came towards my face while the grass pellet rested gently between my lips. When the tongue caressed my chin then moved upwards towards the treat, the sensation like damp sand paper, I couldn't help thinking, "Is it weird for a giraffe if I open my eyes?"
Apparently, since you have to feed a giraffe one pellet at a time, it would take a several pound sack and 10 people to feed it all day, and it still wouldn't be full. I guess that's why I got a giraffe kiss, but how could I resist. There are few times in someone's life where getting a kiss from a giraffe, the world's tallest animal, becomes a reality.
Okay, backup, where in the world am I and how am I getting giraffe kisses?
Nairobi is the capital city of Kenya and a country most people would picture if you ask them what they know about "Africa". That's because it's home to the infamous safari, where millions of people from all over the world come to see and take pictures of the big 5 (lions, elephants, buffalos, leopards, and rhinos).
Kenya is also a country where the oldest human remains have been found, and is home to the often pictured Maasai people, a small ethnic group(also found in Tanzania) whose traditional cultural dress of colourful patterned clothing (konga), blankets (shukas), and beads are a familiar site in advertisements and television shows showcasing "Africa".
Yet, it is important to remember that Kenya is only one country of over 55 recognized states on the African continent and within its borders are dozens of ethnic groups whose customs and culture vary dramatically, sometimes from only a few kilometers away.
I arrived in Nairobi from Toronto to facilitate a voluntour trip for an organization called Me to We. It's pretty much the best travel job in the world and I feel so lucky to be a part of the amazing work we do in partnership with the international charitable organization Free the Children.
Nairobi is a pretty big city, so when I arrived at the place I'd be staying before my trip I decided I wanted to get out an experience what I could before I headed out to the Maasai Mara, where the group I was facilitating would be experiencing a small piece of Kenyan culture for just over a week.
With just under a day and a half of free time available, I joined a group who were visiting the Nairobi Giraffe Centre located on the outskirts of Narobi in the suburb of Lang'ata. It's also where I got to experience my first giraffe kiss.
Funded by the Kenyan conservation organization the African Fund for endangered Wildlife, the purpose of this centre is to educate visitors and Kenyan youth about the countries wildlife and environment. It also, gives them the opportunity to come into close contact with wild animals like giraffes, the world's tallest species.
For me getting up close and personal, maybe even a bit too personal, with a giraffe was really special, and the education we received about conservation and endangered giraffes helped put the important work the Giraffe Centre does into perspective.
This visit was a great introduction to Kenya.  Getting a giraffe kiss was only seconded by my elephant experience where I also  discovered the oldest human remains on the planet.
But that's a story for tomorrow…and no I didn't open my eyes 😛
Happy Travels,
Yak
https://borderlesstravels.com/wp-content/uploads/2014/05/Giraffe-Nariobi-Kenya-610-x-405.jpg
405
610
Ian Yacobucci
http://borderlesstravels.com/wp-content/uploads/2017/10/small-1-300x75.png
Ian Yacobucci
2013-07-11 12:37:35
2018-07-26 11:07:23
What it's like to be kissed by a giraffe in Nairobi (hint: it's like making out with wet sand paper)