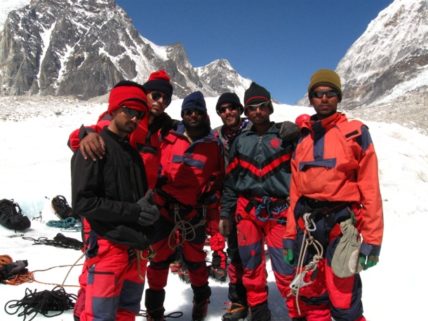 In the Himalayan Mountaineering Institutes basic course base camp is where the real mountaineering training begins. In phase three I describe the training regiment at 14, 600 ft above sea level.
Base camp is what the Himalayan Mountaineering Institute's basic course is all about. After an arduous six day trek, when you finally arrive at base camp, its go time. Here is where the technical training truly begins. While at base camp mountaineering skills are developed in the field on Rathong glacier 5000m above sea level and among the peaks in West Sikkim's Himalayan range.
Food
Food at basecamp is very similar to that on the HMI campus with some minor changes. For every meal you have to use mess tins to collect your food and there is a small mess hall where you can sit and eat on benches that line the walls. To wash your dishes you have to use water from drums, which are filled with glacial river water.
Drinking water – Drinking water is boiled using water from the glacial river and is provided at every meal. You have to bring your water bottle to have it refilled each time and for each day's activities.
Breakfast – Roti with butter and jam, omelet/scrambled eggs (contains onion and hot peppers (mild)), tea, oatmeal and vegetarian option. Sometimes you get puri (chickpeas)
Lunch – roti (flat bread), dal (lentils in a sort of broth), sabji (curried vegetables either cauliflower, potatoes or legumes. Sometimes these are mixed.), curried chicken or mutton and fruit salad
Dinner – roti (flat bread), dal (lentils in a sort of broth), sabji (curried vegetables either cauliflower, potatoes or legumes. Sometimes these are mixed.), and rice or semolina desserts.
Chai – Chai or tea is served throughout the day. The best tea break is the early afternoon break on the glacier where you a served the hot drink and sometimes coffee with your cookies.
Daily Schedule
5:00 – Wake up and tea
6:00 – Breakfast
7:00 – Depart for glacier
10:00 – Glacier training
12::00 – Tea break then depart to base camp
14:00 – Lunch
15:00 – Lectures
19:00 – Dinner
Accomodation:
On an expedition most people live in tents and life is not easy. The Himalayan Mountaineering Institutes base camps accommodation prepares you for that. Thankfully, for the basic course, students do not have to live in tents during their time at base camp.
Instead students live in a barracks lined with two wooden bunks that span the entire building. Privacy is limited but the environment is filled with singing, cards and laughter. Students have to sleep side by side along the bunk boards and there's no heat so it's important to find a spot somewhere in the middle where the cold from the door opening and shutting won't get to you.
Toilets and Showers :
There is no running water at base camp so it's important to bring wet wipes and hand sanitizer in order to keep yourself clean. Luckily, base camp has outhouses so you don't have to go outside although, if you prefer, that is an option.
Mountaineering Training
Mountaineering in the Himalayas is something unique that few people get to experience, and its here that the Himalayan Mountaineering Institute delivers. While at base camp students are not only trekking but developing basic mountaineering skills as well.
Located in this part of the Himalayas is Rathong glacier where students get to practice ice craft, which includes rescue techniques as well as ice climbing, and expedition climbing. There are also several mountains used for high altitude gain during the basic course and 18,000 ft+ peaks for the advanced.
Training out on the mountains is the best way to learn and the instructors allow you to get as much experience as you can. Not only are you trekking and learning a variety of ice climbing techniques on the glacier right away, you also get to learn rescue techniques, rock climb at high altitude, and trekking to very high altitudes above 16, 000 ft.
The hands on basic course, is designed to get students experiencing sport of mountaineering while teaching them the basics of the craft with a focus on safety. It is also intended to wet an individual's palate for the advanced course and prepare them for the excitement of an expedition.
You won't become a mountaineer overnight here and even though you train for a month, as far as learning the craft of mountaineering, it's just the tip of the glacier. But if you like what you've read and visiting the Himalayas is something you've always wanted to do then why not test your boundaries, push yourself, and learn how to mountaineer with the Himalayan Mountaineering Institute.
Well, that's it from me! If you have further questions about my experience please feel free to leave a comment or email me.
For more information on the Himalayan Mountaineering Institute check out:
http://www.himalayanmountaineeringinstitute.com/
Happy Climbing!
Yak
https://borderlesstravels.com/wp-content/uploads/2014/05/My-rope-team-himalayan-mountaineering-institute.jpg
458
610
Ian Yacobucci
http://borderlesstravels.com/wp-content/uploads/2017/10/small-1-300x75.png
Ian Yacobucci
2013-01-28 08:28:56
2018-07-26 11:26:41
Himalayan Mountaineering Institute Basic Training Course Phase 3 – Basic Training at Base Camp