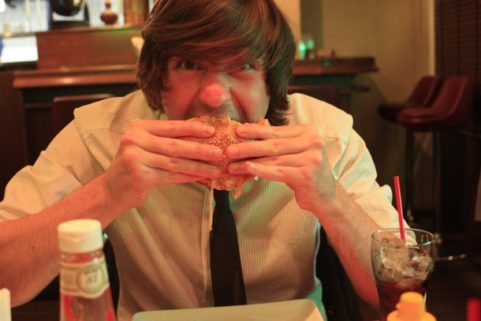 There are a million and one places to get Japanese food in Tokyo but finding a delicious, savoury  meaty, hamburger with all the fixings, a sesame seed bun, and some freshly sliced, lightly salted potato chips on the side isn't so easy.
Located in central Tokyo just steps away from Tokyo Dome City is a hidden gem that only dumb luck or a foreigner starving for a hearty hamburger could find. And yes, they serve their burgers with classic Heinz ketchup and yellow mustard.
I-Kousya Gourment Burgeres and Sandwhiches (yes, it even comes with a wonderfully misspelled sign) servers up the best hamburger I've had in Tokyo, and that's all you need to know. That's right, you no longer have to ask or wonder where to find the best burger in Tokyo because I found it!
I-Kosuya is easy to get to from Suidobashi station and offers up a delectable menu of burgers, sandwiches and sides. If you go with a hamburger there are three sizes of patties that you can choose from – regular (100g), large (150g) and double (200g).
The small diner offers a choice of thirteen burgers that range from your standard hamburger to the gourmet blue cheese burger with friend onion; all of which come with fresh potato chips and pickles with lettuce, onion, tomato, and a sesame seed bun on top.
The moderately priced menu ranges from 900- 1900 ¥ ($9-19 USD) for a burger and you can get a set drink for an additional 157¥ ($1.50 USD). If you're not in the mood for a burger there is also a variety of sandwiches, side orders, and salads to choose from.
I went for the avocado burger and was impressed to find my burger topped with a thinly sliced half of avocado, but what really sold me on I-Kosuya was the meat patty. The savory meat was perfectly seasoned and cooked to perfection making it what I believe is the best burger in Tokyo. At I-Kosuya burgers here are so delicious, you might need more than one!
Whether you're an expat living here, visiting on vacation, or lived in Tokyo all your life there is only one place you need to go if you want to get the best burger in Tokyo, and hands down that's I-Kosuya.
Bon Apetit,
Yak
Getting to the best burger in Tokyo is easy enough just follow this map and simple directions
Directions to I-Kosuya
1. Go to Suidobashi Station (on the sobu line between Idabashi and Ochanomizu)
2. Take the east exit
3. Turn right and walk away from the Tokyo Dome two blocks. You'll pass a Family Mart your right
4. When you get to the second light (first main intersection) cross the street continue on just a bit
5. The restaurant should be on your left
6. It's located across the street from Aoyama Suits
https://borderlesstravels.com/wp-content/uploads/2014/05/Steve-enjoying-the-best-burger-in-tokyo-japan.jpg
407
610
Ian Yacobucci
http://borderlesstravels.com/wp-content/uploads/2017/10/small-1-300x75.png
Ian Yacobucci
2013-01-24 08:06:44
2018-07-26 11:27:11
The "BEST Burger" in Tokyo