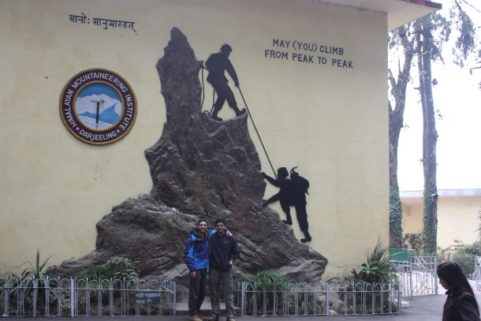 This is the first of a three part series on HMI's basic course Phase 1.
Phase 1 of the basic course: Acclimation, Theory and Physical preparation. 
Phase one is all about preparation. It is designed to prepare you for the mountains, base camp, and the training that takes part there. Its composition revolves around three central themes, acclimatization, physical preparation, and theory. Each of which is broken down into a strict daily routine that starts at sunrise and ends at sunset. During phase 1 students are not allowed to leave campus however, there is one day before phase two where students are allowed to leave campus for the afternoon.
HMI Campus:
The HMI campus is located inside the Darjeeling Zoological Park and is comprised of a central administrative building with offices, a court yard and two lecture halls. There is also the HMI hostel which houses its students and another building where the equipment and medical rooms can be found.
HMI Hostel
The Himalayan Moutnaineering Institute's hostel is by no means luxurious but offers moderately comfortable living conditions. Upon arrival each student receives a pillow case and bed sheet along with their meal utensils. Rooms in the hostel usually house between four and ten students. The beds in the hostel are comfortable and the quilts warm. Each room has lockers for the students to keep their bags and valuable but you must bring your own lock to keep it secure.
Toilets and Showers:
The washrooms take some getting used to. Running water is only provided first thing in the morning to brush your teeth and wash your face. There are no showers and no hot water. In fact the water is freezing cold; ice cold. If you want to bathe you have to take water from giant vats located in the washroom and put it in a bucket then have a bucket shower. There are shower rooms so this is an option.
There toilets are no western toilets at HMI, just squatters. Also, since the course is made up of mostly Indian students there is no toilet paper. What most students do is fill a small tin with water and their left hands to wipe. What I did was purchase wet wipes these will come in handy during your entire stay and are a must as showering options are extremely limited, more so during stages three and four.
How to take a bucket shower:
1. Fill a large bucket or two with water
2. Use a smaller water container
3. Pour the water on yourself using the container (pour slowly, don't dump)
4. Shampoo
5. Rinse
6. Soap
7. Rinse
8. Dry
Daily Schedule
5:00 – Wake up and tea
6:00 – Physical training (PT)
7:00 – Breakfast
8:00 – Lectures
10:00 – Tea break
13:00 – Lunch
14:00 – Lectures
17:00 – Movie
19:00 – Dinner
 Food
The food provided on campus is decent and healthy although it doesn't have much flavour. The great thing about the course is its vegetarian and vegan menu options. Since India has an abundance of people on both diets these options are available. Most meals are vegetarian although there is at least one a day, usually lunch, where meat is provided. The meals become repetitive but are healthy and filling. Usually, you can go for seconds and the rice amount is generous.
 Breakfast – Buttered bread sandwich, jam (flavoured sugar) sandwich, omelet/scrambled eggs (contains onion and hot peppers (mild)), tea and vegetarian option
 Lunch – roti (flat bread), dal (lentils in a sort of broth), sabji (curried vegetables either cauliflower, potatoes or legumes. Sometimes these are mixed.), and fruit salad
 Dinner – roti (flat bread), dal (lentils in a sort of broth), sabji (curried vegetables either cauliflower, potatoes or legumes. Sometimes these are mixed.), chicken or fish curry, and rice or semolina desserts.
 Chai – Chai or tea is served throughout the day. It is very sweet and mixed with skim milk powder so it may upset some stomachs. During morning tea break tea is served with cookies which are rationed at four per person.
If you have further questions about my experience please feel free to leave a comment or email me
For more information on the Himalayan Mountaineering Institute check out:
http://www.himalayanmountaineeringinstitute.com/
https://borderlesstravels.com/wp-content/uploads/2014/05/HMI-entrance-610-x-4071.jpg
407
610
Ian Yacobucci
http://borderlesstravels.com/wp-content/uploads/2017/10/small-1-300x75.png
Ian Yacobucci
2012-11-23 00:15:02
2018-03-27 20:35:37
Himalayan Mountaineering Institute Basic Course : Phase 1 – hostel, schedule and food