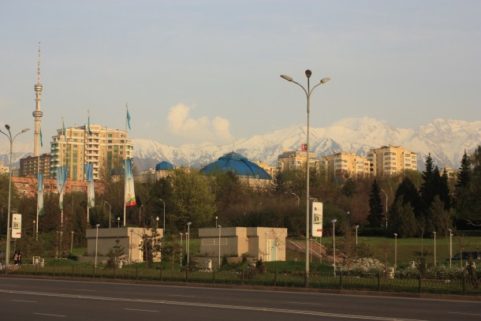 What was lacking in Astana I found in Almaty, the old capital of Kazakhstan. Almaty had everything Astana was missing. There were people out and about, it had old architecture, businesses, and a beautiful mountain backdrop; it was alive.
Almaty is a city famous for its mountainous backdrop and if you find yourself visiting there's no better way to spend a day then heading up the snowcapped mountaintops of the Zailiysky Alatau mountain range. Chimbulak Ski Resort is an easy place to get to from Almaty, and if it's not ski season you can always go to get a bite to eat or take a hike in during the warmer months.
I was lucky enough to stay only a few blocks away from the Kazakhstan Hotel where you can catch the #6 bus located across the street. This bus will take you directly to Medeu and Chimbulak making stops to pick up passengers along the way.
Standing out front of the hotel on a Tuesday morning I was surprised to see that it was full of people waiting to join me on the mountain tops. As buses flew by making quick stops to pick up passengers I was eager to see #6.
The #6 is a bus that makes its way up and down the mountains every hour or so, and when it finally arrived, in front of the Kazakhstan hotel, a horde of elderly Kazakhs rushed to get a seat. Most of those who didn't fight for a spot were subjected to standing for the forty-minute ride, and a small group of women sang at the front of the bus.
When you arrive at Medeu the first sight you see is a giant ice rink built in 1949-1951 as a premiere Soviet skating facility, which is located right in the centre of a valley. It's a nice facility but, when I arrived in April, it didn't have much to offer.
Just above Medeu is Chimbulak Ski Resort. There is a direct cable car that takes you there for 2000 Tenge ($15 USD) per return ticket, although if you show a student card it only costs 1500 Tenge ($10 USD).
Chimbulak ski resort is quite small and has only a few lifts with a large patio and restaurant. The clientele visiting Chimbulak mid-April came dressed in suits and skirts to enjoy a lunch and a view of the snowcapped peaks. Next to the restaurant and patio is a street-lined with a few new-looking chalets and a road that heads into the mountains.
Hiking in the mountains was the goal for my friends and I visiting Chimbulak, but we were unable to locate a trail map and instead decided to walk along the road in the direction of the mountaintops. There are hikes in the area but without a guide or marked trails we decided to play it safe.
Turns out we made the right decision and after an hour the road became a trail that led us into a valley with a river that flowed down the mountain. On the way we passed a luxury hotel and several train cars that looked like they were permanently inhabited. A few tour company billboards were also scattered along the road, but tourism is still developing in Almaty, and Kazakhstan as a whole, so we hadn't looked into these options before the trip.
Our hike took us a few hours into the mountains and when we felt we had gone far enough we headed back to the cable car. Chimbulak is a great afternoon trip and only an hour away from the city. Out of ski season it's a great place to go for a hike or relax in the sun and enjoy a fresh lunch on top of a mountain.
https://borderlesstravels.com/wp-content/uploads/2014/05/Almaty-Kazakhstan-Zailiysky-Alatau-mountain-range-610-x-407.jpg
407
610
Ian Yacobucci
http://borderlesstravels.com/wp-content/uploads/2017/10/small-1-300x75.png
Ian Yacobucci
2012-11-25 00:12:30
2018-07-26 11:33:40
Escape to Almaty| Kazakhstan Chimbulak & Medeu Mountains