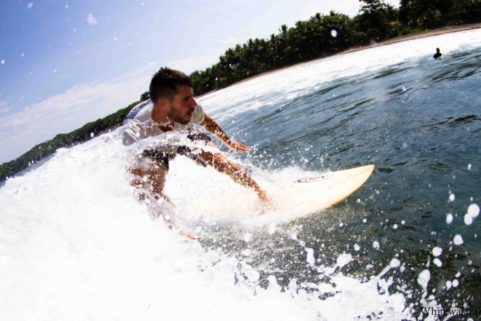 Surfing was the only thing on my mind when I decided that I would be traveling after my time working in Ecuador's Amazon Rainforest. Sure there're the Galapagos Islands but nothing compares to catching a wave, not even the place where Charles Darwin discovered the theory of evolution.
There's surfing all along Ecuador's coast but one name kept appearing when I asked friends and searched the internet for beaches, Montanita. Figuring it was a bit of a Gringolandia I decided that I'd ask a few friends who had surfed the coast.
My friend Sami, from Finland, who I met on a surf trip to the small fishing/surf village of Batu Karas, Indonesia told me that he fell in love with surfing in Ecuador; she was his first. He told me that he spent most of his time in Montanita where he met some great people and loved the surf. So with a recommendation to stay at Balsa Surf Camp I contacted his buddy Johnathan and set myself up.
As my time before I hit the surf nears I've started to discover that my expectations of Montanita being a chill surf village might be much more than that. Everyone I seem to talk to tells me that, along with being Ecuador's surf mecca, it's also the party capital of the coast.
Apparently, the partying is so big that the brother of the person I'm Couchsurfing with is planning to head there from Guayaquil (Ecuador's largest city only a couple hours drive away) just for a Saturday night party!
Even my work friends who live in Ecuador thought I was going for the night life not realizing that it was the surf I was after. I'm confident that saying at the surf camp will prove to be a good move as there are dozens of surf spots around Montanita. Since my last trip, Autumn surfing in Japan, I can't wait to hit the warm pacific waters of Ecuador.
I'm not sure what to expect anymore but I'm happy with whatever comes my way. If the quaint surf village that I built up in my mind is the party mecca that all my friends who live here talk about, then I might be in for a little less sleep than usual.
Surfs up,
Yak
https://borderlesstravels.com/wp-content/uploads/2014/05/Ian-surfs-the-reef-in-Batukaras-Indonesia.jpg
467
700
Ian Yacobucci
http://borderlesstravels.com/wp-content/uploads/2017/10/small-1-300x75.png
Ian Yacobucci
2014-05-02 11:18:01
2018-07-26 09:44:36
Ecuador Surf Diaries: Discovering Montanita