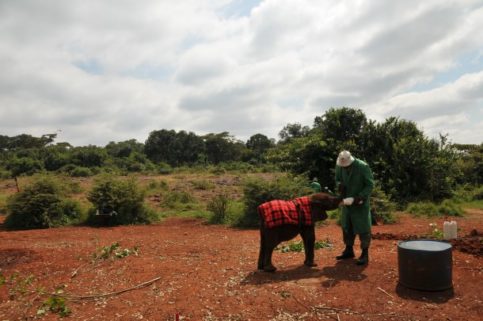 Standing behind a roped off area looking out beyond the giant milk bottles scattered across the vermillion coloured soil towards the forest, I wasn't sure what to expect. I knew I was at an elephant sanctuary, but beyond that I wasn't sure what was about to happen.
Several minutes passed as I looked out towards the azure sky clustered with fluffy marshmallow clouds, took in the sounds of the birds and wind rustling in the trees, and felt the warm sun on my face. I still couldn't believe I was in Nairobi.
Then, just as I was about to snap a picture, a procession of tiny elephants broke through the trees. One, two, three, four, they just kept coming as visitors turned to one another to share their amazement while Naruba, Narok, Quanza and all their friends came thundering out of the bush at full speed ahead.
The David Sheldrick Wildlife Trust runs conservation programs for all African animals, but the Nairobi suburb of Lang'ata hosts its orphan elephant rehabilitation program where, between the hours of 11:00 and 12:00, guest get to meet baby elephants like Arruba.
The eight year program is designed to foster orphan elephants, many of whom are abandoned as a result of poaching (which is illegal in Kenya,) from nursing age until they are ready to be released into the wild. The unique program is split between two sites, Nairobi being the location of the nursing of young and baby elephants.
Watching the youngsters play with each other and interact with their caretakers is so much fun. As they toddle, waddle, and shuffle around in the mud pits, cover themselves in dirt, and scratch their bellies on the water basins there's not a moment that a smile leaves anyone's face.
If you're an animal lover of any kind then a visit to the Sheldrick Wildlife Trust in Nairobi with the hopes of fostering one of these beautiful animals and learning about their lives is the best way to start a day in Kenya's capital city.
After my morning at the Sheldrick Wildlife Trust I decided to spend an afternoon at Nairobi's National museum. To be honest, I'm not really a museum goer but for some reason I felt like it would be a great way for me to learn about Kenya's history and prepare for my upcoming trip to the Masai Mara, where I was scheduled to facilitate a voluntour trip for Me to We.
That's where I discovered the single most important collection of early human remains in the world, all of which were discovered in Kenya. That's right, the Nairobi National Museum hosts the cradle of human kind, an exhibit showcasing the oldest traces of human existence, the world's oldest and most important collection of human remains.
It was remarkable to see fossilized remains dating back millions of years. Inside I couldn't help but stand and stare as I tried to conceptualize the importance of the skulls and skeletons set out before me. To be honest, I couldn't even make sense of what I was looking at. All I knew was that I was standing in front of some of the world's greatest artifacts, the centre of human discovery as we know it.
After about 20 minutes in the hall reading and looking at our human history I decided to explore the rest of the museum, which I really enjoyed.
With around an hour and a half I was able to get through the entire museum.  Showcased inside the National Museum was Kenya's history of colonization and independence, the hall of mammals, and the birds of east Africa exhibition where hundreds of birds from across East Africa were showcased.
One of my favourite parts of the museum was the story and presentation of Ahmed of Marsabit, the most famous elephant in Kenya, whose skeleton is preserved at the National Museum. In the 1960's elephant poaching was becoming an increasing problem in Kenya and people became worried about Ahmed who's tusks were some of the largest anyone had ever seen.
Concerned for his safety, the country rallied behind Ahmed and in 1970 president Kenyatta granted him exclusive protection. This meant that two national park rangers watched over Ahmed day and night until his death from natural causes in 1975.
After his death, Ahmed, who was 55 years old, was laid to rest at the National Museum so that everyone could know the beauty of the Marsabit elephant who brought the country together.  Just in case you were wondering, his tusks ended up weighing 68 kilograms each.
During my time in Nairobi I wasn't able to experience the local culture as I usually like to do but instead got acquainted with some of the continents wild life, learned about Kenya's history, met Ahmed (the most famous elephant in Kenya), discovered the ancient history of human civilization, and spend a morning playing with baby elephants. Not a bad day at all.  So until next time…
Happy Travels,
Yak
https://borderlesstravels.com/wp-content/uploads/2014/05/Baby-Elephant-Feeding-Nairobi-Kenya-610-x-405.jpg
405
610
Ian Yacobucci
http://borderlesstravels.com/wp-content/uploads/2017/10/small-1-300x75.png
Ian Yacobucci
2013-07-17 08:44:57
2018-07-26 11:06:58
Packed day in Nairobi | Get up close and personal with elephants and ancient humans