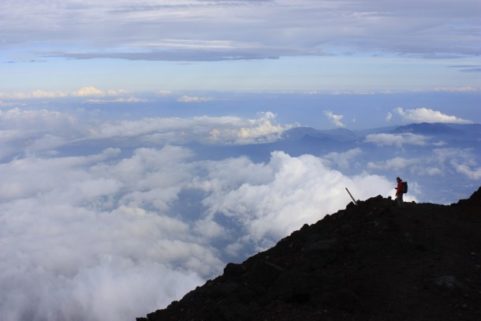 Towering more than 3, 700 m above sea level and only 100 km from Tokyo sits Mt.Fuji. Incredibly, summiting the highest mountain in Japan is a feat that hundreds of thousands of people accomplish each year, and you can too. But getting to the summit without the crowds is the best way to experience Mount Fuji.
The active volcanoes most popular hiking trail is known as the Yoshida Guchi trail. During the climbing season this trail is incredibly congested, so if you want to miss the crowds you'll have to climb Mount Fuji during the beginning of the off season in September.
This year was my second time working in Tokyo and I had one major goal in coming to Japan, climb Mount Fuji. The only problem was that the hiking season was over. Luckily, this did not mean that the mountain was completely closed.
In fact, there were still direct buses running from Shinjuki (the main train station in Tokyo) to Mt. Fuji's 5th station. However, they were not nearly as frequent during the off season and they arrived on the mountain quite late (early bus at 10:30 am) and departed quite early (5:50 pm – or so we were told). This meant that you don't get much time to acclimatize when you get there, and if you want to make it to the summit and catch the bus back you have to rush.
Not climbing Mt. Fuji this year was out of the question so my friends and I headed to the Fuji 5th station. When we arrived, the small village with a tourist centre, hotel, a few small shops and a restaurant were open, but this was only during the day. At night Mount Fuji's fifth station is an absolute ghost town; completely deserted.
It's also important for me to note that during the off season outside of the 5th station during the day, everything is closed. This is especially important if you're planning on staying overnight in one of the mountains guest houses because none of them are open.
Not one to be stopped by the thrills of drinking warm miso at every one of the nine or so stations lining the mountain face, I set pace for the summit. The mountain climb itself was spectacular, but not as easy as everyone made it out to be. There are some technical parts where you have to climb up rocky sections of the mountain side, but it's certainly doable for any able bodied person and the trail is lined with chains to help along the way.
With luck our eight our climb took place on a perfectly clear day where shorts on the way up were necessary. Although, it's important to remember that Mt. Fuji is a mountainous volcano, and at more than 3000 m it gets cold as hell at the top, so you need to be prepared and bring warm clothes.
On my journey to the summit I only encountered two problems. The first was a result of Mt. Fuji's extreme change in elevation from sea level to over 3000m; a change that requires people to stay around the 5th station for at least an hour in order for the body to acclimatize to the change in altitude. Only thinking about our quest for the summit of the highest mountain in Japan, my friend Dave and I both got altitude sickness during our dissent. The dizzying effects of which slowed our progress considerably.
The other problem was transportation. Since buses don't run regularly and the tourist season is over, the 5th station was deserted. Finishing the eight hour climb in the dark, at around 7:30 pm, during the last weekend of September is not the greatest idea. But we were prepared and brought the phone number for the taxi. And when we called, it was out of service.
Cold, tired, and ready to get home we struck some good old travelers luck when a lone English speaking hiker met his Japanese friends at the 5th station. Luckily, they were able to find us the proper cab number and organized a cab back to Kawaguchiko station for us. If you were wondering, the total cost to get back to Kawaguchiko staion was 12900 yen ($129 USD) but at least we were three.
With that in mind all I can say is it was totally worth it. I climbed the highest mountain in Japan and there was virtually no one around. The best part about it was that I learned that you can do it too! Just remember to be prepared, and follow the tips and links at the bottom of this page. If you're feeling adventurous and want to climb Mt. Fuji in the off season I can guarantee you'll get it all to yourself.
Be safe,
Yak
TIPS
1. Detailed information for climbing Mt. Fuji during any season can be found on the Fujiyoshida website
2. Pre-book your bus tickets to Fuji 5th station by calling or getting online at:
• Keio Highway Bus Reservation Center 03-5376-2222(9:00~18:00)
• Internet Reservations (from Shinjuku) http://www.highwaybus.com/(24 hours)for the English site click here
Reservations may be made up to one month in advance.
3. Buy a one way bus ticket incase plans change
4. Call a cab to get home from Mt. Fuji 5th station if you're planning on missing the bus back
• Phone #: 0555721077 (as of Sept. 2012)
• Cost 12970 yen ($129 USD)
• 5th station to Kawaguchiko station (train from there back to Tokyo
5. Don't climb during the winter unless you're an experienced, professional climber.
6. Have fun.
Directions and bus times for quick reference
(Please double check on official websites for more information)
SHINJUKU – MT FUJI 5th STATION (Direct Bus)
**SATURDAY and HOLIDAY Service only**
#This service is schedule to remain effective until November 4th.
From Shinjuku Highway Bus Terminal
Located near Shinjuku Station Nishi-guchi (West Exit). You can find the Shinjuku Highway Bus Terminal outside of the West Exit of Shinjuku station. Once you exit the station turn left and walk about 100m then cross the street. Look for Yodobashi Camera, the station is right across from it. Or you can just ask someone.
Times and cost:
Price: 2600 yen (one way)
Departs Shinjuku Arrives 5th Station
7:40 10:05
9:40 12:05
Departs 5th Station Arrives in Shinjuku
13:00 15:25
15:00 17:25
Bus information taken from : http://www.city.fujiyoshida.yamanashi.jp/div/english/html/index.html
https://borderlesstravels.com/wp-content/uploads/2014/06/Descending-Mt-e1403706913717.jpg
407
610
Ian Yacobucci
http://borderlesstravels.com/wp-content/uploads/2017/10/small-1-300x75.png
Ian Yacobucci
2012-11-15 00:26:37
2018-07-26 11:34:35
Climbing Mt. Fuji in the off season