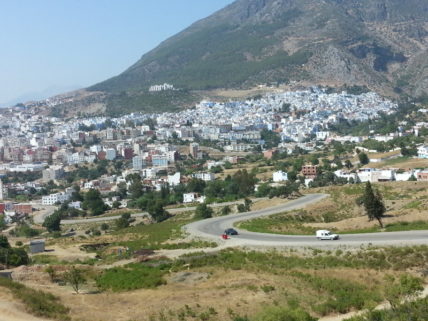 For world travellers, there are few destinations that stand out as places that are unlike any other on the globe. The northern Moroccan city of Chefchaouen, however can legitimately stake the claim as a travel destination like none other.
Having visited this beautiful blue city in the height of the Moroccan summer and at the tail end of Ramadan, we were unsure of what to expect. Upon arriving via a Grand Taxi from the port city of Tangier, we were dropped off near the bus terminal and after orienting ourselves for a few minutes and adjusting to the sights and sounds of our new destination, we immersed ourselves in the blue maze that is the town's medina with the goal of finding our hostel.
Navigating a medina can be an arduous task, but one that is a necessary skill to master when spending any extended amount of time in a Moroccan city. Once we found our bearings, we were able to locate Casa Amina, a centrally located hostel which was to be our home for the next few evenings.
Chefchaouen is a wonderful escape from the hustle and bustle of Morocco's major cities. The laid back atmosphere of the blue medina coupled with the natural beauty of the surrounding landscape creates a peaceful and relaxed vibe that is contradictory to busier Moroccan cities such as Marrakech, Tangier and Fes. This laid back feel also allows tourists to wander the medina without feeling like they are about to be swindled or tricked by locals as can be the case in the aforementioned locations.  Chefchaeouen does have it's own unique form of harassment as locals will offer you hashish as often as several times a day, which if to be believed, is readily available, albeit officially illegal.
Breakfast, lunch and dinner can all be found at very reasonably priced restaurants that make up and surround the Grand Place. Meals are experiences in themselves as local delights such as tajines and pastillas can be enjoyed while listening to the evening prayers. Following meals, people-watching while drinking mint tea, locally referred to as Moroccan whiskey, is a favourite past time.
For the more adventurous traveller, the Rif Mountains provide a taste of the natural beauty that can be seen from the town square. Within a short, thirty minute ride, you can get to a commonly used hiking trail that provides a full day of exercise and some spectacular views. As a reward, the end of the trail results in the Cascade d'Akchour, a beautiful and exceptionally cold waterfall that is a well earned culmination of the day's efforts.
Overall, Chefchaouen is a traveller's dream. It offers something for everyone and at a very affordable price. Even during the heat of the summer and at the tail end of Ramadan, a memorable experience awaits you in northern Morocco's blue oasis.
https://borderlesstravels.com/wp-content/uploads/2015/04/Moroccos-blue-city-Chefchaouen-from-a-distance-e1429730467158.jpg
600
800
Graeme Billinghurst
http://borderlesstravels.com/wp-content/uploads/2017/10/small-1-300x75.png
Graeme Billinghurst
2015-04-22 15:38:10
2018-07-26 09:33:15
Discover Morocco's Blue City Chefchaouen