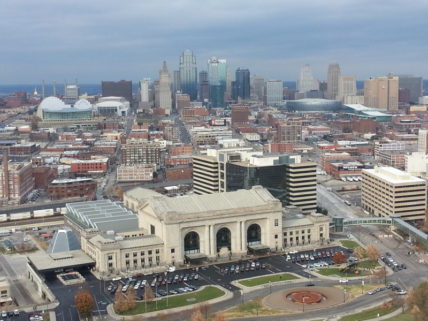 When planning a voyage to America with some friends, rarely will the words, "I think we should add Kansas City to this trip!" be spoken. Perhaps it's time to reconsider that anti-midwestern bias.
Most travellers to America stick to the major city centres on either coast, leaving behind some of the hidden gems on their backpacking journeys. Kansas City is a perfect example of a diamond in the rough that you just might want to consider when going on your great American tour.
What to do
The highlight for history buffs is the National World War I War Museum and Liberty War Memorial. This engaging museum covers the entirety of the war in an interactive and informative manner. Although heavy on information it offers cool displays and is lighter on the in your face Americana.
Established as a memorial in 1921 it's a thoroughly entertaining educational experience and the top of the memorial provides visitors with the best view of Kansas city. Across the street is Union Station, a converted train station turned tourist mecca with restaurants, seasonal shows, and a science museum. Both of these venues are within walking distance of downtown and are on the soon to be completed LRT railway route.
After a long day of travelling, it'll be time to settle in to some authentic midwestern food and no trip to Kansas City would be complete without some BBQ. Head over to Jack Stack's near Union Station for a taste of that sweet and tangy BBQ sauce. If you'd prefer to venture out to the land of Dorothy, you can cross into Kansas and hit up Joe's Bar-B-Que for a bit of a cheaper option, but be prepared to line up.
Finally, when you've reached your tourist quota for the day and it's time to go for a few beverages, the Westport and Power & Light Districts are your best bet. Both areas offer very cool duelling piano bars and the P&L District, as locals call it, sometimes offers outdoor concerts in the summer months. Make sure to try the locally brewed Boulevard Brewery Company's line of beers wherever you end up partying for the night.
Where to Stay
After a full day of sightseeing and partying, it's always nice to have a comfortable bed to crash in. Hostelling isn't a big venture in America other than in a select few cities so it might be tough to find a decent place to stay in KC that would meet a backpacker's budget. For those willing to spend a little bit extra, established places like the Hotel Phillips will provide some of the old charm that made Kansas City a destination town in the 1930's.
This art deco building right in the heart of downtown is a great place to anchor yourself when trying to see all the sites. It's within walking distance to the P&L District and with a free shuttle service that will drive you to other buzzing neighbourhoods like Westport or Country Club Plaza, it makes the ideal home base for your visit.  In the offseason, affordable rates can be found, especially if you're travelling in a small group.
Whether you're backpacking, going on a road trip or just stopping in for the weekend, take a chance on Kansas City and prepare to be pleasantly surprised.
https://borderlesstravels.com/wp-content/uploads/2015/04/View-of-Downtown-Kansas-City-from-the-War-Memorial-with-Union-Station-in-the-forefront-e1429886611156.jpg
600
800
Graeme Billinghurst
http://borderlesstravels.com/wp-content/uploads/2017/10/small-1-300x75.png
Graeme Billinghurst
2015-04-27 10:56:39
2018-07-26 09:33:04
Kansas City| Venture into the Heartland of America