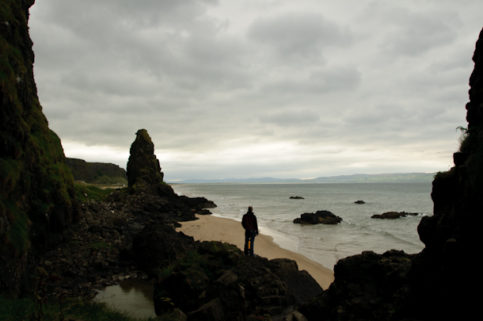 The ultimate Ireland road trip itinerary: eight unforgettable days exploring the Emerald Isle on a road trip trip to make your Irish friends proud.
Ancient ruins older than the Egyptian pyramids, the most stunning vistas at every turn, Game of Thrones shooting locations, whisky tasting, and driving 100km an hour on winding roads that barely fit two cars and appear to be the inspiration for racing video games are just start of an epic Ireland road trip!
In fact, the least exciting thing about visiting Ireland is drinking Guinness; so yeah, it's pretty awesome.  With so much to do and so many places to see where do you even start creating the perfect Ireland road trip itinerary? Well fear not fellow travelers!
On a recent trip with Irish travel blogger and friend David M Byrne, we "did" Ireland the way it should be traveled.  No really, this guide has almost every worthwhile stop, creating a complete Ireland road trip itinerary that is guaranteed to make your Irish friends proud.
Epic Ireland Road Trip Itinerary – Day 1
Arrive in Dublin  Overnight in Ballycastle – this small ocean side town is a great stop before you head to the Causeway costal drive of Northern Ireland.  If you're there in August you can plan your stay for the last Monday and Tuesday in August for the Auld Lammas fair dating back more than 400 years!
Epic Ireland Road Trip Itinerary – Day 2
Causeway Coastal Drive – costal drive through Co. Antrim, Northern Ireland
Carick-A-Rede Rope Bridge – walk across the1800s salmon fishing bridge 100ft above the sea.  High winds sometimes close the bridge as I experienced but it's still worth a visit and a few pictures.
Ballintoy Harbour – stop for a picture at the setting of the Game of Thrones Pike Harbor.
White Park Bay – this picturesque beach is a great place to stretch your legs and enjoy an incredible Irish view!
Giants Causeway (for free) – the only UNESCO site in Northern Ireland, this geologic wonder is a must do. You can visit the Giants Causeway for free instead of being suckered into paying like all the other tourists.  What you do is park at the hotel (gets you parked super close to the attraction) then go in for a coffee or a drink.  Afterwards, you walk to the side of the hotel (where the tourist shop is) and take the footpath across the grassy knoll over the visitors center then down the stairs.
Bushmills Distillery – I like learning about whisky so this was a given as the worlds oldest licensed brewer.  The 1608 Bushmills is whisky tour that's worth a visit.  It's also my favourite in Irish whisky.
Downhill beach – A great beach with a few surfers and a really cool observatory.  Downhill beach was the shooting location for the Game of Thrones Iron Islands.  If you walk down to the right of the beach there's a really cool gave worth checking out.
Overnight in Bundorn –  A famous Irish surf spot in the winter Bundorn is a bustling  summer tourist spot with a lot of good places to sleep, eat, and drink.
Epic Ireland Road Trip Itinerary – Day 3
Westport – stop off for lunch at this traditional Irish town.  It's definitely worth a wander around.
Kylemore Abbey – a cool stop for a photo but the 13 Euro ticket to see what's inside isn't worth the money.  We skipped it and opted to save our coffee money, took a picture, and moved on.
Connemara National Park – one of a handful of national parks in Ireland Connemara National Park is a great stop with an awesome hike called the diamond loop.  It's free and takes a couple hours.  It has some fantastic views and exhibits the natural history of this region.
Overnight in Knockcroghery – so you can say you stayed in a place that you can't even pronounce.
Epic Ireland Road Trip Itinerary –Day 4
Kilmacduagh Monastery – No tourists visit here but it's an amazing 6th century monastery with a pristine round tower.  It's open to explore and walk around and literally in a farmer's field.  Leave some time here because this place will take you back to the 6th century and won't be on  many tourist maps!
Ciffs of Moher – You can't miss this geologic wonder.  The 200m cliffs are one of the most popular tourist sights in Ireland, and for good reason.  If you want to truly see the beauty of the cliffs walk right towards the lookout then walk along the Burren Way.
Killimer Tarbert ferry – save time and get to the Dingle Peninsula with a ferry trip across the mouth of the River Shannon the longest river in Ireland.
Conor Pass – drive the highest mountain pass in Ireland to get to Dingle.  This drive is insane and does not have nearly enough room for two cars, which makes it a pretty exciting drive.
Overnight in Dingle – one of the most famous Irish cultural towns enjoy traditional Irish music and great food.  Don't forget to snap a pic with the broze statue of Fungie the dolphin.
Ireland Road Trip Itinerary – Day 5
Drive the Dingle Peninsula – take Sleahead drive and enjoy the scenery.  Make sure to make time for stops because around every bend is a breathtaking vista worth a few pictures.
Blasket Islands Lookout – DON'T MISS THIS because it's probably the most incredible view in Ireland!
Gallarus Oratory – stop to see one of the oldest examples of ancient monastic architecture.  Built by stacking stones this church is an incredible example of ancient Irish culture and architecture.
Kilmacduagh Church – Really cool stop if you're not too churched out.  There are no tourists here and it's great for a few pictures.  Some of the Gallarus Oratory film highlights the churches archeological features.
Drive the Ring Kerry – Much like the Dingle Peninsula the Ring of Kerry is another costal drive that will have you stopping for pictures at every turn.
Night out in Cork City – a great university town with live music, good eats, and a fun nightlife.  This is where you'll want to take a break to let loose and sleep in a bit!
Epic Ireland Road Trip Itinerary – Day 6
Explore Cobh – Cobh is one of the pretties towns in Ireland.  Nestled along a hillside with St. Coleman's Cathedral stoically perched high above the town, Cobh is a city made for walking.  Tour along the winding hillside streets as you explore the small cafe's and pubs.  Venture away from the main avenue and get lost in your camera as you visit the last docking point of the Titanic.
Titanic museum – Cobh was the final stop for the Titanic before it embarked on it's maiden voyage.  With a profile and replica ticket this museum takes you on a journey of what the Titanic was like.  It's a great museum and worth the money to see.  The museum is interactive and short enough that you don't get bored.
Blarney castle – Most tourists make the stop here so it's on the list, but when I arrived and found out it was 12 Euros and an 1hr queue to kiss the blarney stone I said forget it.  There are so many cooler things to see in Ireland, and my friends already complain that I have the gift of the gab (which kissing the blarney stone gives you).
Overnight in Middleton
Epic Ireland Road Trip Itinerary – Day 7
Jameson Distillery – Located Middleton Jameson is the world's most popular whisky.  The tour was pretty good and has a few good photo ops.  The whisky isn't bad either.
The Rock of Cashel – Close to Middleton in Co. Tipperary the Rock of Cashel is way better than the Blarney Castle and offers in depth tours of it's royal and monastic past.  The Queen Elizabeth took the time to visit so you should too!
Visit Kilkenny – Another great city with a vibrant night life.  Kilkenny is a great city to watch some traditional Irish sports like Gaelic football or Hurling and crush a few beers.
Overnight in Wicklow
Epic Ireland Road Trip Itinerary – Day 8
Wicklow – A popular town for visitors to Ireland Wicklow is a short drive from Dublin and has a few of Irelands most famous sites, a really nice beach, and the ancient Black Castle ruins that date back to the Vikings.
Glendalough – this is the location of Ireland's most famous round tower.
Powers Court Estate and Gardens – rated 3rd most beautiful gardens in the world by National Geographic Powers Court is worth a visit.  You'll see the colourful Sugar Loaf mountain in the background and can enjoy a hike around the gardens.
Climb Sugar Loaf – Located in Wicklow this small mountain only takes 20 minutes to climb and overlooks Dublin and Wicklow.  Don't leave anything in the car because the parking lot is prone to theft.
Overnight in Wicklow
Must see highlights of this Ireland Road Trip
Giants Causeway
Connemara National Park
Ciffs of Moher Dingle Peninsula
Blasket islands lookout
Ring Kerry
Sláinte,
Yak
https://borderlesstravels.com/wp-content/uploads/2014/10/Epic-Ireland-Road-Trip-Itinerary-Downhill-Beach.jpg
405
610
Ian Yacobucci
http://borderlesstravels.com/wp-content/uploads/2017/10/small-1-300x75.png
Ian Yacobucci
2014-11-04 08:30:52
2018-07-26 09:37:11
Emerald Isle| Epic Ireland road trip to do before you die