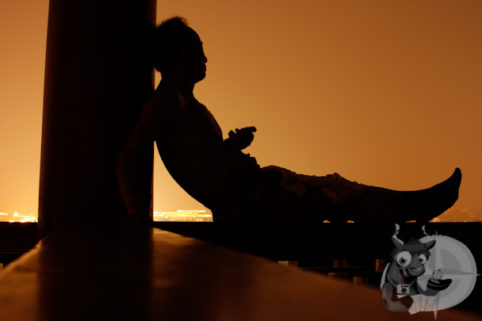 Reflections in Jingshan Park Beijing:
Once the imperial gardens for the 500 year old Forbidden City (the world's largest palace complex according to UNESCO) Jingshan Park is the best place to get a view of central Beijing and offers the best view of the Forbidden City.
Located just north of the Forbidden City you can easily walk there or take a taxi if you're not up for exploring.  Like me, arriving at Jingshan Park just before sunset allows for time to enjoy a walk through the gardens before heading up the hill in it's centre.
Lost in thought as I looked out towards the ancient palace complex, before long, I soon realized that it was dark.  Since my camera is always in my bag I decided to take a crack at some night photography.  I never travel with a tri-pod which makes it difficult to get the perfect picture, but on this night I succeeded in capturing this gentleman as he sat listening to the radio.
The sights and sounds of the city, reflecting on it's ancient past and modern future, and trying to capture that moment in time was one of my most memorable moments in Beijing.  It took me almost an hour to get this photograph but in the end I didn't have to edit it at all; it was perfect.
What I used: ISO 100 – 28mm – F/5.0 – 10.0 Sec
Learn essential travel photography tips 
Happy shooting!
Yak
https://borderlesstravels.com/wp-content/uploads/2014/10/Night-reflections-Jinsghan-Park-Beijing-China_.jpg
405
608
Ian Yacobucci
http://borderlesstravels.com/wp-content/uploads/2017/10/small-1-300x75.png
Ian Yacobucci
2014-10-09 14:03:27
2018-07-26 09:40:01
Travel Photo| Stunning view of Beijing's Forbidden City