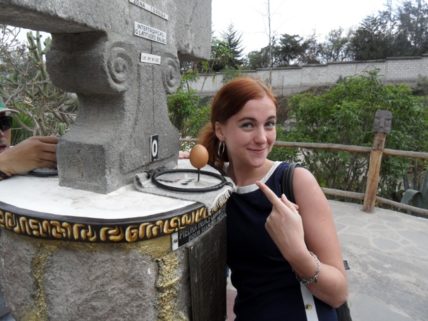 More than just someone who travels around Anna Lysakowska shares her experiences combing traveling with work in order to progress her career development while experiencing what it's like to live in different countries as an expat.
Borderless Travels caught up with Anna in Amsterdam, Netherlands where she's currently living and working at Flipit.com as well as a writer, traveler, translator, and blogger at AnnaEverywhere.com.
While supply teaching at an all girl's Catholic school in Toronto, Canada I asked them what they wanted to know; here's what they came up with:
With degrees and diplomas from multiple universities, including studies in journalism, fashion marketing, Dutch studies, international law, and Latin American studies, how has education played a role in your work and travel experience?
First of all, studying allowed me to travel more by simply putting me in the place where I studied and also by giving me scholarships that allowed me to fund my short-term trips. Did my diplomas help me to get various jobs? Probably, but most of the time I treated the university as a longer project while pursuing other types of work such as marketing. Don't get me wrong, studying helped me a lot, but there is a huge difference between a theory gained through studying and practical work experience.
What strategies did you use to fund your education and how do you fund your travels?
I'm simply always working, anytime and anywhere I can. I'm currently working full-time along with some freelancing projects on the side so this is the source of my money.
As a journalism and fashion-marketing student what did you learn that you directly apply to your blog and personal businesses?
I think I'm still learning how to manage my blog (especially time-wise) and make it more known. Ironically when I travel I have less time to write, because I constantly want to do things. A writer once said that if you want to write a book go live in a boring place – I think he was right.
With all those studies why did you keep changing your area focus?
I actually believe I was working towards the same goal. It might seem like I've been changing my focus a lot, but if you look at it in a different light, that isn't the case: I started from history and art history, followed by journalism (along with a brief romance in Dutch studies) and fashion marketing. I was able to use all of this knowledge to become a travel writer because every place has its own history and culture. After living in Latin America and getting involved in a lot of political issues I used the opportunity to study International Law and Latin American Public Policy at Leiden University in The Netherlands to go back to Mexico and conduct my research. My attempts resulted in the publication of my book about Mexican abortion laws.
You have a lot of education what is the most important thing you've learned?
Funnily enough that studies are not enough! 😉 I saw a lot of well-educated people studying with me, who had no idea what they wanted to do with their lives. I guess studying and living abroad has made me face so many difficult situations I had to overcome to move any further.
 In all the countries you've worked and lived how did you adapt to the way of life and culture there, and what did you do to get to know people?
I think the most important for me was learning a local language. In some countries, such as Argentina, it was particularly difficult. I was vegetarian at the time and when I moved there I spoke no word of Spanish. Noone spoke English and even when I finally told my host family that I don't eat meat they treated me like some sort of exotic species that doesn't want to have bacon on my eggs.
Unlike many travel bloggers who live a nomadic lifestyle why do you choose to stay in one place and share your experience as a working expat?
I'd say there is a huge difference between just visiting a place and living somewhere for a bit longer. You get to know people, culture and how the real life can be somewhere only after you get to know the place as an expat. Do I actually stay in one place? I guess not. For instance, this year even tho I've been based in the Netherlands I was able to visit Marrakesh, London, Warsaw, Tokyo, California and I'm still planning a trip to Asia at the end of the year.
How do you juggle relationships (family, romantic, and friendships) with all your travels?
I have a very small family so keeping up with them isn't much of a problem because combine traveling and living, I am usually in a specific place for a moderately long time so having a romantic relationship comes naturally. Friendship is the hardest of the three for me to manage and it's not surprising that my friends are spread out all over the world. I try and talk to my close friends often and we visit each other semi-frequently.
What struggles do you face as someone who is constantly traveling and working around the world?
First of all that I can never organize a proper birthday party, because all my best friends are spread around the world 😉 I guess in some countries, like for instance in Holland, finding a job is tough, so getting settled becomes a bit more complicated. However, with a lot of patience and hard work everything is manageable.
Of course, what would an interview with a travel blogger be if we didn't ask those hard hitting travel questions.
What's drawn you to traveling?
Growing up, everyone told me that a girl from Poland going out and traveling the world on her own was a ridiculous idea. While I had always been somewhat interested in travel out of general curiosity, I think the fact that everyone discouraged me when I told them I wanted to do it pushed me to travel more than anything.
 What has been your most memorable travel experience?
My most memorable travel experience has got to be when I volunteered at Zimbabwe's Antelope Park to work with lions in April 2010. I got to help raise lion cubs and take them for walks.
Many travelers have a travel trinket what's yours and what do you collect things from different countries?
It might sound a bit stereotypical, but I collect key-chains and earrings. Why? I don't know, I guess it just happened. As a young traveler I used to bring different items home from every place I visited, but in less touristic countries there was not much to buy, so I randomly picked a few handmade key-chains and eventually I realized I have quite a collection. I've always been a big fan of earrings, so I was buying them anyway – my favorites are the ones I bought in Fiji.
Anna Lysakowska is a blogger at Anna Everywhere. She has visited more than 45 countries and lived in 7, including Mexico City, Boston, London, Cape Town, Florence and Leiden. She studied journalism at Harvard, international law at Oxford Brookes and obtained her Masters in Latin American Studies from Leiden University. Since 2013 she has been residing in the Netherlands where she works at a marketing company, but this doesn't stop her from traveling. Connect with her through Facebook, Twitter and Google+.
https://borderlesstravels.com/wp-content/uploads/2014/09/Ana-Everywhere-standing-an-egg-on-Equator.jpg
480
640
Ian Yacobucci
http://borderlesstravels.com/wp-content/uploads/2017/10/small-1-300x75.png
Ian Yacobucci
2014-09-29 09:08:19
2018-03-27 18:54:04
Anna Everywhere: secrets to blogging, studying & traveling the world