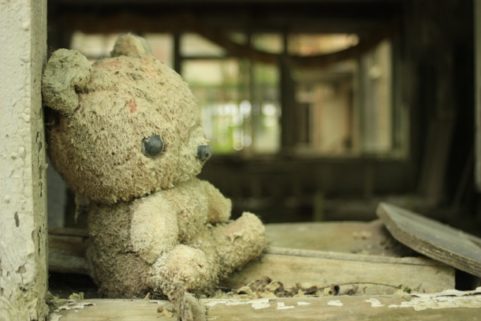 With names like zone of alienation and exclusion zone marking the areas surrounding the most famous nuclear power plant in the world, its surprising that 27 years after the biggest nuclear disaster in history, it is possible to visit the Chernobyl Nuclear power plant and its surrounding area.
On a recently organized trip with CHERNOBYLwel.come I was able to visit Chernobyl for a two day one night excursion. On the trip I witnessed the after effects of the Chernobyl nuclear disaster by visiting Pripyat and the surrounding ghost towns that have been abandoned for the last 27 years.
Day 1
I started my trip in front of Kiev's main train station where I was introduced to Dominik, our trip organizer. From there it took us two hours to get to Chernobyl where we were met by Ukrainian border guards who checked our passports and required permits.
Thankfully, our tour operator Dominik organized all the necessary permits, guides, and accommodations beforehand. This allowed our group to quickly pass through the necessary boarder checks and drop off our bags at the Chernobyl Inter Inform Agency Hotel before we headed off to Pripyat, our first destination.
Pripyat is now a ghost town. It's 50, 000 residents, most of whom worked at the power plant, were evacuated after the Chernobyl Power Plant's Reactor #4 exploded on April 26, 1986.
After the explosion residents were evacuated without warning and forced to grab whatever belongings they could carry.  They were told that they would be able to return for the rest of their belongings at a later date but none would ever do so.
In step behind our tour guide, who was issued by the state to accompany us, we wandered through the streets of Pripyat on a 5 hour tour of the abandoned city. Although abandoned with few signs of humanity, other than the skeletons of empty buildings and the belongings inside, Pripyat is full of life.
The original city is unrecognizable since overgrown vegetation that has taken over the roads and surrounds Pripyat's many buildings. Listening as you wander through the streets of a once vibrant city, only the sounds of the trees rustling in the wind wind are there to remind you that life still remains.
Our tour took us throughout the entire city and our guide made sure we visited the most recognizable places. This included visits to the bus station, hospital, docks, central square, school No. 1 and of course the amusement park which was never used, since the city was evacuated only days before its scheduled opening.
For safety reasons, visitors to Pripyat are no longer able to enter buildings  in the city.  This is the result of a recent structure collapse at one of the schools and the bylaw ensures the safety of tourists.  But rules are meant to be broken, and who could resist the urge to explore.
So, when given a chance to look around on our own, me and two friends on the tour, an American urban explorer named Tom and Johnny from One Step 4 Ward, snuck into several buildings.
Our exploring took us inside the bus Station, a random building where we found a mural of Lennin, Hotel Polissa where got some pictures from the top floor, and the sports center where we got to see the infamous swimming pool and basketball court.
Pripyat was definitely the highlight of the tour but our first day also included a few other interesting stops. We had lunch at the power plant cafeteria, which is still used by employees working at the plant today. The food was delicious and before we ate we had to go through a radiation scanner in order to measure our contamination levels which was cool.
After lunch we headed to a bridge over the Pripyat river where we fed 2m cat fish, saw reactors 5 and 6, the plants cooling towers, and a memorial dedicated to the 31 people who died in the accident. On our way back to Chernobyl we also stopped at the only place you're allowed to take pictures of the Chernobyl Power Plant's Reactor #4, the location of the accident.
After a day of exploring the abandoned city, we arrived back at our hotel around 8pm instead of heading back to Kiev. The overnight stay in Chernobyl allowed our tour group to enjoy a full day of sightseeing in Pripyat as well as a stop at the local shop to get wine which helps detoxify the body of radiation, as our guide kindly led us to believe.
Day 2
After spending the night in Chernobyl, something few get the opportunity to do, our second day was considerably shorter than the first, but still managed to be an extremely eye opening experience.
On our second day I met  Maria and Ivan who have been living in Chernobyl for more than 75 years.  The two of them, along with a few other families of re-settlers, returned to the exclusion zone only two years after the Chernobyl disaster and evacuation.
After spending time chatting with Maria and Ivan our guide brought us through the exclusion zones abandoned villages where we were given time to explore.  Filled with neglected wooden structures that sat in overgrown fields and along long abandoned roadways, these villages affirmed the wide spread effects of the Chernobyl disaster.
Not only was the city of Pripyat affected by the Chernobyl Power Plant's Reactor #4 radiation leak, but rural communities in the surrounding countryside were also required to evacuate.   Not to mention the fact that a large portion of Belarus was also affected by the radiation, a result of the wind systems in the area.
After exploring the effects the Chernobyl disaster had on its rural community we made a few more stops.  First we headed to the local fire station to check out some of the equipment that was used in the disaster then had lunch with people who live and work in Chernobyl.
After lunch we said our goodbyes to our Chernobyl guide, then headed back to the modern world where for most of the year the realities Chernobyl disaster stand forgotten.
For me, witnessing the fall out of Chernobyl's nuclear disaster was a humbling experience. Seeing firsthand how fragile humanity is to the dangers of new technologies and human error is not something we think about on a daily basis.
Visiting Chernobyl is more than seeing a ghost town.  Bearing witness to history like the Chernobyl nuclear disaster gives those who visit and the people they share their experience the opportunity to create a better understanding of who we are as a society, where we've been, and where we're going.
To change the future we must first understand the past,
Yak
Interesting Chernobyl facts:
• About 3000 workers live and work in Chernobyl as security guards, tour guides, and power plant workers
• Curfew for tourists is 8pm
• Curfew for locals and employees is 10 pm
• Employees work 15 days on 15 days off
[royalslider id="4″]
Tips:
1. In order to visit Chernobyl tourists need to have permits as well as be accompanied by a state administered tour guides. That being said, organized tours are a must.
2. Get there sooner rather than later as laws are changing quickly due to the decay of the bulidings in Pipyat which are a safety issue to visitors.
3. Photography around the power plant and reactor 4 are very strict, so follow your guides instructions about where and when you can snap a shot.
Tally:
• Two day excursion 270 Euros – $350 USD
Learn more about how you can join CHERNOBYLwel.come's next trip  
Thank you to Chernobylwel who offered Borderless Travels a discount, and to Dominik for making the experience so awesome!
https://borderlesstravels.com/wp-content/uploads/2014/05/Teddy-Bear-Pripyat-Chernobyl-Ukraine.jpg
407
610
Ian Yacobucci
http://borderlesstravels.com/wp-content/uploads/2017/10/small-1-300x75.png
Ian Yacobucci
2013-04-25 19:46:02
2018-07-26 11:19:44
Exploring Chernobyl the real future of a nuclear disaster