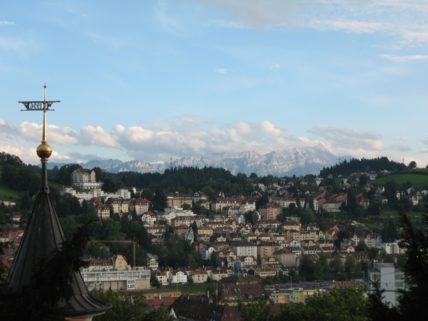 Looking for a place get off the Eurotour, gap year, Contiki, been there done that, checked that country off my travel list tourist trek. Do you need a break from drinking 7 nights a week, taking iPhone picks that would make your future employer embarrassed to hire you, I don't know what I'm doing with my life, trying to find myself Euro trip? Than you need to take a few days R & R in St. Gallen, Switzerland.
St. Gallen is easy to get to get to because it's close to Germany, and borders Austria, and Italy. Located in a lush green valley with blue skies almost every summer day, and Mount Santis watching over it (a mountain so epic a mythical god has probably claimed it as its throne); St. Gallen is Switzerland.
If you're too tired to venture into the Appenzelle Alps for a hike along Santis, a visit I would highly recommend, than try this for sorts.
Abbey Library (Siftsbibliothek)
The most epic library I have ever been too. This place is ridiculous and should be used for a scene in the next Harry Potter (because they need to make another one just to show this place).
Of course, as one of the oldest libraries in the world, it's a UNESCO World Cultural Heritage site. Inside the hand carved wooden sanctuary, perfect for napping, the library is filled with over 100, 000 medieval manuscripts.
Visiting the abbey library basically means you get to go back in time. That's right! This library is so awesome it's a acts like a freaking time machine. With manuscripts dating back to the year 700 and ancient books of astrology that were so important that monks used real gold to write and impart their knowledge, this place is living history. Skip the basement though, it's pretty weak.
Abbey of St. Gall
I know, another European church, big deal. Forget it then, pop in take a few pics of the ceiling then chill out around the grounds and read a book.
I mean, the place has been around since 719, show some respect and check it out. It's a UNESCO World Heritage site and is the cornerstone of the city.
If you're a religious person it's a quiet place to pray, and if you're feeling guilty about the things you've done on your trip so far, the boozing etc. etc. then maybe a few minutes sitting in a pew wouldn't hurt.
Old Town
This is Europe. Shopping, cafe's, restaurants and walking are what these countries are all about. Luckily, unlike other touristy cities, St. Gallen's old town is a nice quiet place where you can sit back with a coffee or beer, write in your journal, and be thankful that you are one of the 3% of the global population that get to leave your country on an airplane.
So enjoy the cobbled stone streets, let the traditional Swiss architecture take you back in time, and do a little shopping; you deserve it.
Three Lakes (Weiherweg)
The three lakes is by far my favourite place in the city, and the best summer place to visit in St. Gallen. Hidden on a hillside and accessible by funicular the three lakes is like a secret garden in the city. Walking up the back route from the funicular you'll be able to see all the way across St. Gallen to the Lake of Constance.
This is the perfect place to chill on a warm summer afternoon. Grab a beer and toss a frisbee or football around on the grassy knoll, take a dip in the natural lakes for a cool down, then lay back and enjoy the sun. How you enjoy it is up to you. All you need to do is get to the "muhleggbahn" funicular station (the oldest transportation service in the city located in old town) and in 15 min you're there.
Lake Constance (Bodensee)
Only a short train or bus trip from St. Gallen and you're on shores of the third largest lake in central Europe. In the summer, the lake is filled with sailboats cruising the shorelines of Germany, Switzerland, and Austria. Sunning yourself along the grassy lakeside looking out onto gleaming turquoise water you'll forget about all the mistakes you made on your trip and start to realize that yes, this was the best time of my life.
Happy Travels,
Yak
https://borderlesstravels.com/wp-content/uploads/2014/05/Mt.Santis-St.Gallen-Switzerland.jpg
750
1000
Ian Yacobucci
http://borderlesstravels.com/wp-content/uploads/2017/10/small-1-300x75.png
Ian Yacobucci
2013-08-08 11:11:35
2018-07-26 11:05:15
5 awesome reasons to get off the Euro tourist trek and visit St. Gallen, Switzerland