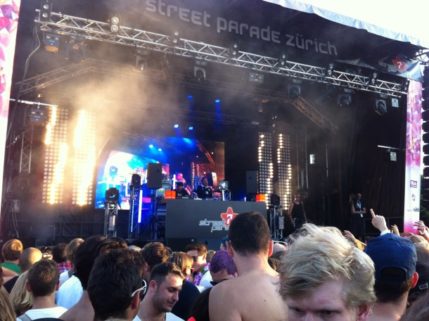 Zurich is the most civilized city I've ever been to. Café's and quiet streets – the promenade stretching along Lake Zurich filled with sailboats and lined by the Swiss Alps – Zurich is a serene and picturesque city ranked 2rd on the Forbs best places to live 2013.
But one weekend a year more than 800, 000 people from around the world swarm the city's downtown to party with the world's best electronic music DJ's. With names like Bob Sinclar, Klangkarrussell, Andre Oliva, and Fedde Le Grand headlining this year, and as the biggest electronic music parade in Europe, this is one party you won't want to miss.
The Zurich Street Parade is an electronic music parade filled with a ton of trance, dub step and drum and base from around the world. It kicks off every year on the second weekend of August for a crazy party that shuts down the city.
Starting around 1pm Saturday afternoon and ending at midnight on Sunday the 2.4 km section of street, bordering Lake Zurich, fills with nearly 1 million people who come to party without limits.
The festivities start off with DJ's on flatbed trucks driving down the road as dancers wearing almost nothing, and VIP's who paid for the best seat in the house, get wild while the DJs blanket their surroundings with deep trance and techno music bliss.
Dancing, drinking, and other recreational activities are the norm here but you don't have to be messed up to have a good time. With permanent stages, clubs, and trucks the Zurich Street Parade is everywhere, and out of control.
If you want to fit in throw on a whacky costume accented with neon colours and wild hair. You won't be out of place if you wear something normal but this party is all about letting go of your inhibitions.
Last year I came late to the party, arriving around 5 in the afternoon, and I didn't bring my own party supplies (which I would highly recommend you do). My friend Ryan had an early morning flight the next day so our plan was to make it until his 5am train departure.
Let's just say that one thing led to another.  Instead of catching the train to the airport, Ryan ended up on a train to Bern (the Swiss Capital), then forgot all his technology at airport security as I slept soundly after a savage day of dancing and fun.  At least he made his flight home.
Last year's theme was, "Follow your Heart", and that's exactly what we did. This year, "Dance for Freedom" brought almost a million people to the city, but I wasn't there to experience it; hopefully next year!
If you're an electronic music fan looking for the biggest technoparade in Europe then the Zurich Street Parade in Switzerland is where you need to be!
Oh yeah, and it's totally free!!!!
Enjoy,
Yak
More information about who's playing and what you need to know for next year at
https://borderlesstravels.com/wp-content/uploads/2014/05/Enjoying-some-Dub-Step-at-one-of-Zurich-Street-Parades-permanent-stages-Zurich-Switzerland.jpg
456
610
Ian Yacobucci
http://borderlesstravels.com/wp-content/uploads/2017/10/small-1-300x75.png
Ian Yacobucci
2013-08-14 04:37:59
2018-07-26 10:03:13
Zurich Street Parade 11 hours of insanity at the biggest technoparade in Europe