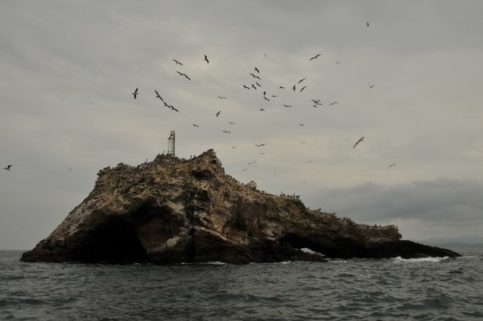 If you hear anyone talk about Montanita they'll tell you two things. First, that Montanita is a surfer's paradise and second, that it has some great partying. Yet, what people don't know is that Montanita also has some really nice scuba diving.
I met two Canadians in town who were going on a day trip to Isla de la Plata, also known as the "poor man's Galapagos". Hearing that it was pretty cool I decided to head over to Otro Mundo, a local Montanita dive centre, and sign up for the day trip.
Paul and Pablo, two of the divers at Otro Mundo quickly convinced me that the water was going to be really clear and I should consider diving instead. I listened, and discovered a fantastic underwater world around El Pelado, which means bare island for its lack of trees or vegetation.
The island is a small rocky outcropping located about 20 minutes boat ride from beautiful and quiet Ayangue Bay. One of its incredible features is Ed Pelado's birds. Covered with pelicans and other sea birds including a few Blue-footed Boobys, when you're not under water exploring, you get to see hundreds of birds interacting and flying in unison all around the island.
The diving around El Pelado is great because of Otro Mundo's work to get it protected by having it recognized as a nature preserve. For the past fifteen years, Otro Mundo has been working on environmental projects like this along with creating octopus homes to help cultivate their return to the area after years of overfishing.
The crew I dived with was super cool. Pablo, the guy who runs the show, has over 6000 dives under his belt and has made diving his career as he traveled around the world.
The dive trip was super laid back and relaxing. There was no pressure and no rush, which can be annoying especially when you get used to the slow relaxed lifestyle in Montanita.
Set up with our gear and a description of the day's dives we headed off to the El Pelado. After our first dive at La Viejita where we saw a few octopi, schools of fish, some nice corals, and enjoyed the oily looking water caused by the transition from warmer surface water to cooler water beneath was a lot of fun.
Munching on a couple buns and some watermelon after my first dive, it was back at it. The second dive we did was just as fun but the coolest part was a part of the dive where we went from 8m through a coral tunnel to 3m for our safety stop.
With a little refresher and a couple more dives under my belt I was really happy that I said yes and went scuba diving in Montanita.
The scenery, the dive, El Pelado, and the crew made the dives here in Montanita a great experience. If you're a diver and want to mix up the endless days of surfing and sunning yourself going scuba diving in Montanita is definite must.
Happy Travels,
Yak
Otro Mundo
042-060059
Email: montanitadivers@hotmail.com
Located at the centre of Montanita next to Banco Boliviano
https://borderlesstravels.com/wp-content/uploads/2014/05/El-Pelado-Montanita-Ecuador.jpg
405
610
Ian Yacobucci
http://borderlesstravels.com/wp-content/uploads/2017/10/small-1-300x75.png
Ian Yacobucci
2014-05-12 11:53:33
2018-07-26 09:43:22
Ecuador Surf Diary: Scuba diving in Montanita