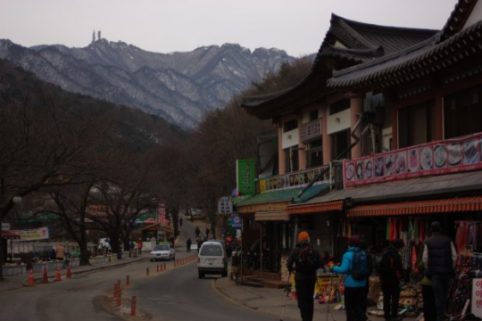 Daejeon's the perfect place to go hiking in South Korea. Don't forget your crampons and bottle of Soju!
Hiking in South Korea is a national past-time, and the best places to hike are in the many national parks located across country. If you're looking for hiking in Seoul, you can hop on the subway for a hike at Bukhansan National Park, but the real gems are just outside the city.
Hiking in Daejeon is a great way to spend a weekend. Located about two hours south west of Seoul, Daejeon can be a great escape from the hustle and bustle of the big city. No small city itself, Daejeon offers the convenience of a big city, but located just outside its centre you'll find Gyeryongsan National Park.
Gyeryongsan National Park offers some of the best hiking in South Korea. Try to get an early start if you want to get the most out of the many hikes available and don't forget your Soju. It's not uncommon to see small groups stopping along the way for some Kimchi and Soju. After a great day of hiking you wont feel guilty stopping by Yuseon spa for some rest and relaxation at a traditional Korean jjimjilbang.
How to get to Gyeryongsan National Park:
From Daejeon Station take the subway to the Yusong Spa subway stop, once there take exit 5 out of the station.
The bus stop is located just outside exit 5 where you can take bus 107 to Gyeryongsan National Park.
The bus will drop you off at a parking lot just outside Donghaksa temple at the entrance of Gyeryongsan National Park.
Recommended Gyeryongsan Hike:
Arrival
Once there head up the main street to the entrance where you'll find a small information booth and a giant map. If you go straight you'll head towards Donghaksa temple and have to pay an entry fee so turn right and head up the hill. If you're there on a weekend you can follow the hikers.
The Hike
First head up to Nanmaetap pagoda a great spot to take a rest and check out your progress. Washrooms are also located there. From there you can head up to Sanbulbong (sanbul peak) for an amazing view and the first on this hike.
Guaneumbong is the highest peak on this hike and a perfect spot to stop for lunch and enjoy the view, you might even get offered a little soju while you're up there. On our lunch stop my friend and I were offered some Korean toffee from a couple sharing lunch and some rice wine at the top. We had some mandarines to return the favour and we all sat on the peak enjoying the view satisfied with our accomplishment and our cultural exchange.
From there you begin your descent back to Donghaksa temple. On the way you can stop at eunseon pokpo (eunseon waterfall) for a rest before finishing off your hike with a 1.3 km cool down as you head back along the temple road to where you started.
Hike length: 4 hours (summer) 5 hours (winter)
Tips:
1. If you're going in the winter bring proper boots it can be rather slippery and you might even want to buy some crampons (most of the shops have these available). Also be aware that the condition might be cause for it to close so check and make sure it's open.
2. There is also a tourist information centre located just up the road from the bus drop off . They usually speak some English and can provide you with maps and some hike directions.
3. Hiking in Korea always has places to eat so whether you're getting started or just finishing up there are places to stock up or sit down and have a meal. Kimbap (korean sushi roll) is always a great idea and don't forget to try the roasted chestnuts, a must have after a beautiful winter hike.
Tally: (January 2012)
Subway – 1200-1300 won
Bus – 1200 won
Food – Food prices vary depending on location and meal choice.
Kimbap – 2000 won
Chestnuts – 2000 won
Meal – 5-15, 000 won
Gyeryongsan National Park Inquiries
• 1330 tt call center: +82-42-1330 (English,Korean,Japanese,Chinese)
• For more info: +82-42-825-3005, +82-41-857-5178, +82-42-825-3004
https://borderlesstravels.com/wp-content/uploads/2014/05/2fa67f482133f1c934235b73c2a03954_XL.jpg
360
540
Ian Yacobucci
http://borderlesstravels.com/wp-content/uploads/2017/10/small-1-300x75.png
Ian Yacobucci
2012-01-26 01:49:26
2018-07-26 11:53:08
Hiking in Daejeon South Korea