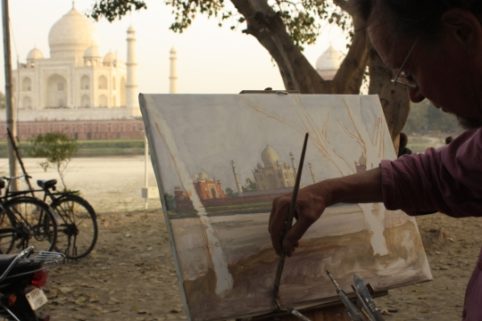 In Agra, India I mET travelling artist Julien barrow in and stopped to ask him a few questions about his life and the joys of travelling.
I met Julien on the shores of the Yamuna River overlooking the Taj Mahal. On a late February afternoon we had both decided to take in the Taj Mahal before sunset. I armed with a camera and he with his canvass and paint.
Having travelled the world creating art Julien is now into his seventies. But he hasn't let age slow him down as he still continues to travel work. India being one of his favourite counties to visit Julien was in India to escape the English winter and work on some of his artwork.
After watching him paint the Taj Mahal, mesmerized by the gentle strokes of the brush on the canvass I was captivated by the process of watching the Taj Mahal emerge. Unlike myself who was content to use a camera to snap a few dramatic shots of the Taj Mahal as it stood towering over the shores of the Yamuna, it's 300 years of history looking at me as if it had never aged, Julien was taking his time.
Julien loves to paint and share his with those around him. As we stood there chatting tourists and locals alike came to catch a glimpse of him at work. At one point a local offered him 1000 rupees for his work and Julien had some fun as he asked the group of onlookers for the highest bid. Finally a Japanese tourists offers 1500 rupees just as goat bolts by us, crashing into a group of local women and disrupting the exchange. It was time for Julien to get back to work and we finished our interview before as the sun set on the Taj Mahal.
Julien is an inspiration showing that it's possible to fulfill your dreams. Travelling and working is something many people dream of doing and Julien's lifestyle is just one example of how this can be achieved.
When did you start travelling and painting?
When I was in my mid twenties
What motivated you to begin travelling?
It was exciting, one of the things about being a landscape painter is you can just pack up, set off somewhere, and work.
What aspects of travelling and working draw you to the lifestyle?
Just to get away from England on a miserable winter day, you know.
If we go back to before you started painting and travelling how did you develop your painting skills; where did you begin?
Well when I was in boarding school in England I had a really good art teacher and he inspired me to get going. Then my father tried to stop me being a painter he said, "you'll starve in the garret if you become a painter." I took the risk and I haven't starved yet, but I may still. I've brought up a family; one of my daughters is an artist.
How long have you been painting in India?
I came to India first, I think, in 1970 and that was my first ever visit. Then I've been pretty regular since, and I think I've been now 35 times.
What keeps you coming back to India?
I think it's the wonderful variety of subjects here. There such a variety of architecture, I like painting bulidings and India's got such a mixture of every period of architecture going from the early mogul tombs up to the-the 19th the 20th century buildings in New Deli.
Where do you find your inspiration to paint your subjects in India?
Money, because they sell well (we both laugh). Well, in the winter months when it's pretty miserable in England its wonderful here. Look at it here on a beautiful February day, the weather's superb.
Can you give me a breakdown of your artistic process, how you decide where to go and what to paint?
I think very often the light is what attracts me; I wander around just to find somewhere that's got interesting light. I mean this one I'm working on now, it's got the contrast between the foreground and the shadows and the wonderful light on the buildings in the distance.
Since many of your subjects are historical does history and preservation of history play a role in where you choose to paint?
Not necessarily, I mean people would think, what's barrow doing painting the Taj Mahal again he's done it dozens of times before, but it's a wonderful subject. I don't mind how many times I've done it it's a superb subject; look at the light, nobody could deny seeing it on an evening like this.
You've been travelling and painting for about 50 years you said?
Yep, I've lived in the same. I've got a wonderful studio in London, quite a historic studio, where a lot of famous artists lived in the past.
Do you think you'll ever stop travelling?
I hope not. My wife doesn't come so much because she's busy at home, we've got grandchildren, and she loves looking after the grandchildren.
https://borderlesstravels.com/wp-content/uploads/2014/05/Julien-Barrow-paints-the-Taj-Mahal-at-sunset-from-the-shores-of-the-Yamuna-River.jpg
360
540
Ian Yacobucci
http://borderlesstravels.com/wp-content/uploads/2017/10/small-1-300x75.png
Ian Yacobucci
2012-04-04 04:59:30
2018-07-26 11:44:54
Interview in India : discussion with travelling artist Julien Barrow on the shores of the Yamuna