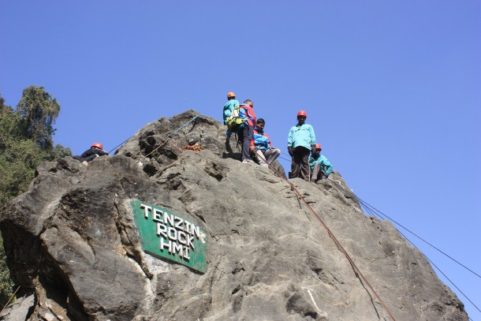 Phase 1 is designed to prepare students for base camp in the Himalayan mountain range of West Siikim.  During phase one students focus on physical training and mountaineering skills to prepare them for the mountains.  Here is a break down of what you can expect.
Physical Training
Physical training is part of the acclimation process for the basic course. It is used to prepare students for the arduous mountaineering schedule that takes place during phases 2 and 3. Since students will be trekking at high and very high altitude, for a months time, it's important to prepare your body for the demanding physical challenge. Physical training at HMI is intense and if possible you should try to train and prepare yourself before coming.
Morning PT
Morning physical training is mandatory and starts at 6am for the first five days. It is a military style workout comprised of at 2-4km uphill run followed by fitness which consists of various push-ups and sit-ups as well as a calisthenics. The fitness portion of the morning PT is supplemented with yoga every two days but the running is consistent.
Doing these workouts at higher altitude if you're not from the mountains can be more difficult but eventually you will improve and become less tired. I would recommend bringing a pair of running shoes since the quality of runners in Darjeeling is not very high, and as I found out can have physical repercussions.
On the sixth day of phase one the physical training changes from running and exercising to trekking. Since student equipment is distributed at this time and students will begin their ascent to base camp soon HMI begins physical preparation for the climb.
During this time students are required to trek 8-10 km (two hours) with 20 kg backpacks filled with their sleeping bags, windproof suits, climbing gear, and mountaineering boots. Fortunately, this exercise is complimented with yoga which is a nice release after trekking.
 Mountaineering skills
The mountaineering skills that are taught and practiced during phase one revolve around rock climbing. Students are taught how to use a harness, tie knots, belay, repel and climb. After the first day or two of lessons mornings and afternoons are filled with rock climbing.
Tenzing Rock – rock climbing techniques
Tenzing rock aptly named after Tenzing Norgay, who was the first man to ascend Everest and establish HMI, is the name of the rock climbing area the Himalayan Mountaineering Institute uses to train. It is located thirty minutes from the campus and some days you go directly there after trekking for morning PT. On long climbing days both tea and lunch are served there so students are required to bring their mess tins and tea cups.
Climbing here was a lot of fun and the instructors really don't baby you. Right after a skill is modeled students are sent climbing, belaying, and repelling. It's great to get right into it and since you are often outside on real rock cliffs you get to really experience what it's like to climb.
The rock itself has several climbing routes that allow students to practice rock climbing skills including harness-less shoulder repelling as well as a 100 ft repel. As far as climbing goes, students are able to practice climbing a chimney and learn variety climbing techniques that they can use on the various routes.
While climbing, the instructors are constantly monitoring students as they practice. Before students climb an area for the first time or practice a particular technique an instructor usually models it while someone describes it. Unfortunately, the descriptions can sometimes be in Hindi, but other students are usually able to translate for you.
A unique characteristic of Tenzing rock is the fact that several of the climbing routes are separated by a road that is constantly in use by local traffic. At first this feature is cool because its uncharacteristic of a climbing area in the Himalayas and has a really Indian feel. However, it eventually becomes a bit of a nuisance because of the pollution and constant honking.
Finally, after all the onsite training at Tenzing rock,students get a chance to practice sport climbing on the campus climbing wall.  Its a great afternoon where everyone gets to relax and encourage each other as they try to make it to the top.
Overall the climbing experiences are good and students get to try most aspects of climbing. The only thing they don't get to do is secure their own anchors as lines while climbing are anchored and organized by the instructors.
This part of the course is not designed to teach you how to rock climb on your own. It is used to give students a chance to experience rock climbing, build interest in the sport, and give them an idea of what can be expected if they have to climb on a mountain.
If you have further questions about my experience please feel free to leave a comment or email me
For more information on the Himalayan Mountaineering Institute check out:
http://www.himalayanmountaineeringinstitute.com/
https://borderlesstravels.com/wp-content/uploads/2014/05/climbing-practice-610.jpg
407
610
Ian Yacobucci
http://borderlesstravels.com/wp-content/uploads/2017/10/small-1-300x75.png
Ian Yacobucci
2012-11-26 00:44:05
2018-07-26 11:33:26
Himalayan Mountaineering Institute Basic Course Phase 1: physical training and mountaineering skills