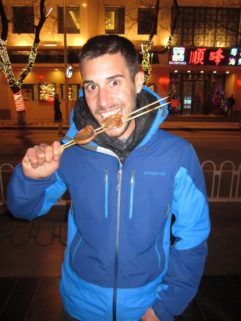 Wanfujing business district, located downtown Beijing, would seem like an unlikely place to find sumptuous snacks such as roast scorpion or king spider. When you think of business districts tall buildings, banks, and Starbucks are what most people picture but Wanfujing is different.
Located right in the centre of this capital city business district is the Donghuamen night market which is known to many in Beijing as the crazy food street. Since 1984 this market has been serving up delicacies such as starfish, scorpion, ostrich, king spider, and the genitalia of various farm animals. For tourists the night market is a great place for an evening stroll to look at the exotic foods as vendors tempt them to try as they call out the names of their delicacies. Most often, these people find themselves enjoying meat skewers, dumplings and noodles followed by fried ice cream or a skewer of fruit to clean their palates.
As for the adventure foodie, meat skewers and fruit are not an option since the night market is filled with exotic foods to challenge even the strongest stomachs. Grubs, scorpions, snakes, starfish, sea urchin, king spider, bull penis, sheep testicles, and even cat and dog are all flavoured options here. Prices here are flexible and range from 10 to 80 RMB depending.
I found myself back on Wanfujing wandering through the night market just seven months after my last visit. This time it was different as I was accompanied by friends Johnny from onestep4ward and theshameless traveler Stevo. During my previous visit I enjoyed a stroll through the market sampling a few meat and fruit skewers as I took in the sights and sounds of the busy street market. Things were a little different now that I had a few friends around.
Walking along the Donghuamen night market the vendors tempted us with tasty treats, "dog, cat, you like, very good," "sheep penis, delicious, you try," they yelled as we walked by. Discussing if these offers were real, none of us really thought about trying anything until Stevo decided to take the ultimate foodie challenge conjuring up a deal for two skewers of sheep testicles and penis. Well, after tasting some starfish, this seemed like an incredibly unappetizing option. But, as my teeth wrestled with a small piece of sheep's penis, I couldn't deny the fact that I had finally decided try the unthinkable and taken a disgusting food challenge. Of course, I followed that with a smidge of sheep's balls because, as the saying goes, "two is better than one".
So if you find yourself standing on Wangfujin, the vendors of the Donghuamen challenging you to try something new, do it, take a picture, then go home and tell your friends that in China you too ate penis and testicles.
Tips:
1. In the market most vendors will barging with you although, don't expect to get less than 5 or 10 RMB discounted off your price.
2. If you buy in bulk from a vendor (two or more skewers) then getting a discounted price is easier
3. Don't haggle to much these vendors are sensitive and there are plenty of other tourists for them to coerce into buying disgusting foods to try
Tally (prices as of April 2012):
Price of various delicacies 10-80 RMB
Fruit and meat skewers 10-15 RMB – $1-2 UDS
Animal body parts 15-30 RMB – $2-5 USD
King spider 80rmb – $12 USD
https://borderlesstravels.com/wp-content/uploads/2014/05/ian-tasting-the-goods-in-dongumen-night-market-beijing1.jpg
613
460
Ian Yacobucci
http://borderlesstravels.com/wp-content/uploads/2017/10/small-1-300x75.png
Ian Yacobucci
2012-04-04 04:57:01
2018-07-26 11:45:36
Eating weird food at Donghuamen Night Market