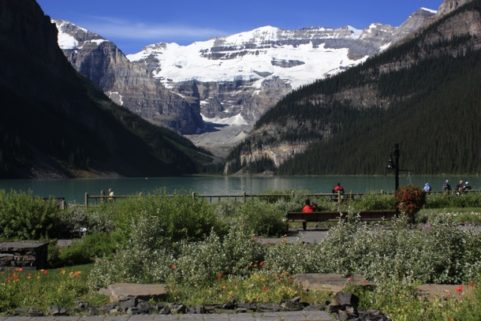 Lake Louise, located in the heart of the Canadian Rockies, is a resort designed to impress. At the foot of the mountains is the Fairmont Chateau Lake Louise with spectacular hiking just outside its doorstep. If you're visiting, there are two hikes that you won't want to miss out on, and both of them are easily accessible day hikes.
Day Hike 1 – Lake Louise, plain of the six glaciers, and so much more
To be perfectly honest these hiking trails in front of the Fairmont Lake Louise are quite easy. While I was hiking I often passed families with young children, people in crocks, and older couples who were meandering up the mountain trails at a leisurely pace. You do not need any experience for these hikes.
To make this a full day hike you can start by walking along Lake Louise towards the Plain of Six Glaciers and one of the famous Lake Louise tea house. The lookout located at 2, 195m offers a spectacular view of the glaciers, is surrounded by waterfalls, and should take you 1.5 to 2 hours to get to depending on your pace.
On your way to the lookout you can stop at the Lake Louise Tea House for a snack or a drink. It's a popular site and on the main trail to the Plain of Six Glaciers so it's usually pretty busy. You should also know that they don't have running water to fill your water bottles however, you can fill up in the creek alongside the tea house if you're feeling adventurous. I certainly did!
From the Plain of Six Glaciers there's an uphill trail that will take you to the top of Big Beehive, which overlooks the Fairmont Lake Louise Resort and the surrounding area; a great place to take pictures. From there you can head down to Lake Agnes on your way back to the Fairmont Lake Louise.
At Lake Agnes, I battled the cold water and took a swim. If that's not your thing you might prefer some lunch at the scenic Lake Agnes Tea House, located at the foot of the lake. Outside there is also a sitting area and benches along Lake Agnes where you can relax and enjoy the view.
After Lake Agnes you should be ready to head back to Lake Louise. On your way you'll get a chance to stop off at Mirror Lake where you can enjoy the waterfall that joins Lake Agnes and Mirror Lake.
Depending, this hike should take you between 5-8 hours and should not be missed if you're visiting Lake Louise.
Day 2 – Mount Fairview
A much more technical hike Mount Fairview has one of the best views in the surrounding range and all you need to successfully summit this mountain is time. For an experienced hiker it should take around 1.5 to two hours to summit and close to the same to descend.
The hardest part of this hike is the last quarter where you are climbing up a rocky cliff face. Don't be discouraged that this hike is too hard. Anyone, who takes his or her time, will be able to make it to the top but be aware that it is not as easy as the Plain of Six Glaciers hike and you need to be cautious.
I planned to eat my lunch when I got to the top of Mount Fairview and enjoyed the view, as I looked across the wooded valley below and the fast expanse of the rocky mountain range that streatched into the distance. One of the most unique things about this place is the view of the glaciers that caress the surrounding mountaintops and are a unique feature of the Rockies.
I hope you enjoy these hikes, have fun, and hike safe.
Yak
https://borderlesstravels.com/wp-content/uploads/2014/05/View-of-six-glaciers-Fairmont-Lake-Louise.jpg
407
610
Ian Yacobucci
http://borderlesstravels.com/wp-content/uploads/2017/10/small-1-300x75.png
Ian Yacobucci
2012-12-21 12:46:00
2018-07-26 11:28:31
How to hike Lake Louise, Alberta in two absolutely incredible days