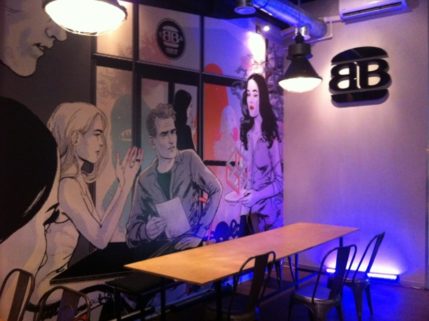 For real yo! Grastronomic delights in stylish restaurants, with minimalistic menus that blend fresh organic ingredients at great prices, is what eating in Warsaw is all about. I mean, its just good food, and what's better than that.
Finding good restaurants with reasonable prices is easy if you're a local and know where to go, but if you're not from the city you're stuck. So naturally, while visiting my friend from Warsaw, we went to what we decided were the 3 best restaurants in Warsaw, and probably Europe!
Meat Love
Good enough to convert even the most devout vegetarians (but they're not haters) meat love is all you'll have when you're done eating here. Meat Love is easily the best sandwich shop in Warsaw, the minimalist menu blending pesto mayo with fresh cooked meats and home baked bread.
Famous for their sweet pickled cucumber slices on the side, the fusion of fresh turkey, pork, or beef blended with mache (lamb/corn lettuce), pesto mayo, and sun dried tomatoes on freshly baked baguette or flatbread will result in you coming back again and again (I know I did).
Enjoy a fresh coffee and raspberry lemon muffin, or grab a freshly squeezed lemonade to enjoy on the patio.
Meat Love website: http://www.meatlove.pl
Sam
Maybe its the name of the baker, maybe its not, but starting the morning off with a vegetable, herb, and quinoa salad with freshly baked sourdough croutons is what I did at Sam, and that's just the tip of the iceberg at this bakery and restaurant. Famous for its breads and bagels, baked fresh daily, Sam is the perfect place for every meal. With gourmet breakfast, lunch and dinner creations that are sure to blow your mind you'll definitely end up coming back.
Make sure you order one of their fresh squeezed fruit smoothies made with organic fruits (I loved the mango melon and grapefruit, raspberry, passion fruit smoothies)
Sam Facebook page: https://www.facebook.com/pages/SAM-Kameralny-Kompleks Gastronomiczny/279002175504602
Bobby Burger
If you're looking for the best burger in Warsaw you don't have to look much further than Bobby Burger. The uniquely designed interior was painted by a famous artist from the city and the food matches the trendy feeling of this place. Dive into a classic bacon cheese burger or experiment with a spicy one the choice is yours.
All the food is organic and prepared fresh with fries on the side. To be honest, when you're on the road nothing beats a little comfort food, and after a few months back packing around Europe I was not disappointed when I mucked my bacon cheese burger.
While you're there try out some of the Polish beverages like Johnny Lemonade's raspberry rhubarb soda, get the house lemonade, or treat yourself to one of Poland's many fine beers.
Bobby Burger Facebook page: https://www.facebook.com/burgerbobby
These places are amazing because they're cheap and the food is unreal. A full meal with a drink will cost you about 20-30 slt ($6-10) and everything is freshly made and organic. But don't take my word for it, go and check these places out for yourself, then let me know what you think!
Bon a petit,
Yak
https://borderlesstravels.com/wp-content/uploads/2014/05/Inside-Bobby-Burger-Warsaw-Poland-.jpg
456
610
Ian Yacobucci
http://borderlesstravels.com/wp-content/uploads/2017/10/small-1-300x75.png
Ian Yacobucci
2014-01-15 13:57:01
2018-04-20 06:16:07
3 best restaurants in Warsaw